Prehistoric footprints and remains around Texas
Prehistoric creatures can be found at parks and museums around our part of the state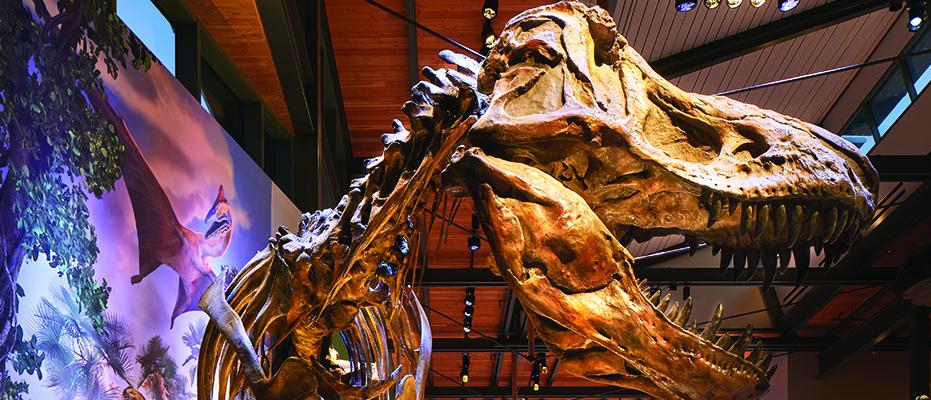 By Will Holford
Texas had more than mosasaurs. You can see footprints and remains of other prehistoric creatures around the state. Places to visit include:
DINOSAUR VALLEY STATE PARK, Glen Rose
1,578-acre park opened in 1972. In 1908 a flood roared down the Paluxy River, exposing dinosaur tracks left by two species – three-toed theropods and large, elephant-like sauropods – 110 million years ago. Self-hikes and guided tours are available to explore the five main track site areas in the park.
1629 Park Rd 59; Glen Rose, TX 76043; (245) 897-4588
tpwd.texas/gov/state-parks/dinosaur-valley
GOVERNMENT CANYON STATE NATURAL AREA, San Antonio
This state-protected area preserves 12,244 acres, mostly primitive backcountry, in the recharge zone over the Edwards Aquifer. There are more than 40 miles of hiking and biking trails. Visitors can check out tracks of Acrocanthosaurus and large sauropods. Campers can reserve one of 23 walk-in tent campsites or one of two walk-in group tent campsites for up to 16 people each.
12861 Galm Road, San Antonio, TX 78254; 210-688-9055
tpwd.texas.gov/state-parks/government-canyon
WITTE MUSEUM, San Antonio
The Witte Museum houses the Naylor Family Dinosaur Gallery, which displays fossils, skeletons and footprints of creatures that walked, swam and flew 110 million years ago during the Cretaceous era. Visitors will learn about the Acrocanthosaurus, the meat-eating marine reptile Tylosaurus, the giant Tyrannosaurus Rex, the mysterious sea turtle Protostega, the enormous crocodile creature Deinosuchus, and Quetzalcoatlus, a huge flying reptile.
3801 Broadway St.; San Antonio, TX 78209; 210-357-1900
WACO MAMMOTH NATIONAL MONUMENT, Waco
Located in 100 acres of parkland along the Bosque River, this site contains the remains of more than 20 Columbian mammoths that suddenly died together about 70,000 years ago, probably when trapped during a flash flood. Other remains include a Western camel, a dwarf antelope, American alligator and giant tortoise. Some of the fossils are now housed at Baylor University's Mayborn Museum Complex, but most remain on site, protected by a climate-controlled dig shelter that allows for public viewing and scientific research.
6220 Steinbeck Bend Drive, Waco, TX 76708; 254-750-7946
HERITAGE MUSEUM OF THE TEXAS HILL COUNTRY, Canyon Lake
The 25-acre museum site contains more than 200 dinosaur footprints in 28 separate trackways made more than 110 million years ago. The museum hosts tours, events, field trips, youth camps and birthday parties.
4831 FM 2673, Canyon Lake, TX 78133; 830-899-4542