Enjoy the barbecue, the oil museum, the lavender farm and, of course, the Watermelon Thump
By Harlye Bonorden 
The scent of sweet watermelon and smoky barbecue floats in the air of Luling, mixed with the subtle but unmistakable "smell of money" – oil – which gave the town a rich heritage and is still pumping in the region.  
Luling has more than 5,000 residents and 170 businesses, and is centered at the intersections of U.S. highways 90 and 183 and Texas 80. The community straddles the Caldwell and Guadalupe county line. Luling was established in 1874 with the arrival of the Southern Pacific Railroad, when trains carried cotton, pecans and cattle, which were hauled from Mexico to Kansas. Those rough and tumble days and rowdy cowboys gave Luling the nickname "The Toughest Town in Texas."
In 1922, the discovery of the Luling oilfield led to a population and business boom by the 1930s. Though the oil slump of the 1980s impacted growth, Luling's crops and livestock remain economic mainstays.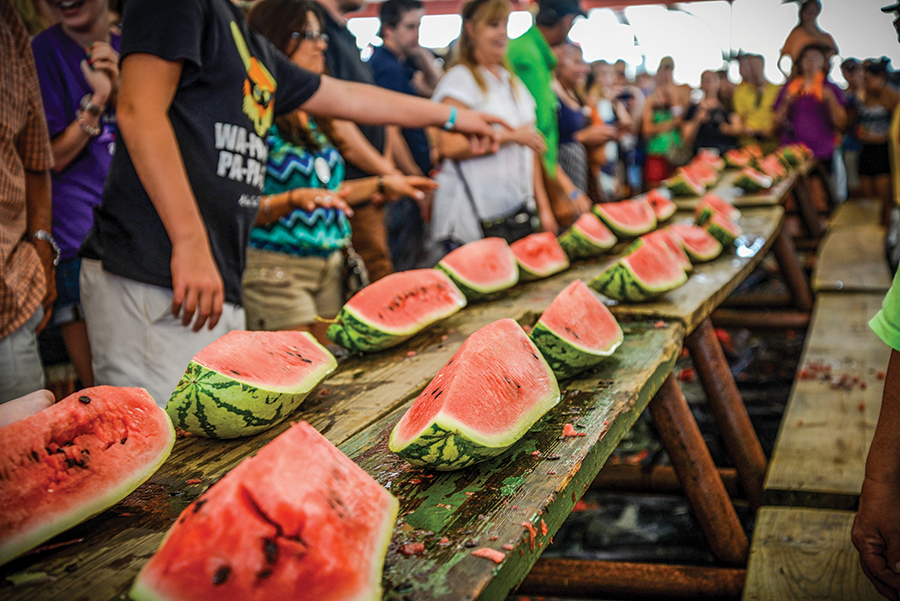 Wondering if that's a water tower or a giant floating watermelon on East Pierce Street? The community is still known far and wide for its celebration of the big beloved fruit at its annual Watermelon Thump festivities. The events began in 1954 and still attract big crowds the last Thursday-Sunday of every June. Go to newsite.watermelonthump.com for information.
WHAT TO DO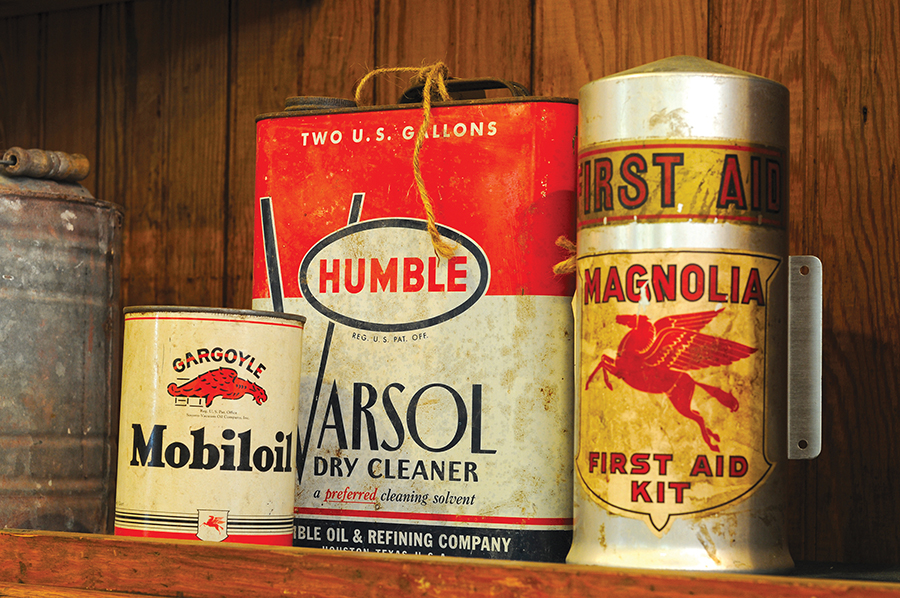 Luling Oil Museum, 421 E. Davis St., houses 100-year-old historic oil drilling tools and equipment, artifacts and documents that trace Luling's history; admission $2 for an adult, $1 for children 12 and younger; open 9 a.m.- 4 p.m., Monday-Friday. After the museum, cruise the town's major roads to see brightly painted oil pumpjacks that add color to history.
Luling Lavender Fields, home to nearly 2,000 budding plants and lots of lavender products, is near the intersection of Interstate 10 and U.S. 183, 5 Arrow Lane, 10 a.m.-5 p.m., daily. 
The Luling Foundation's Agriculture Demonstration Farm, 523 S. Mulberry Ave., on 1,123 acres, 1 mile west of downtown; the foundation was started in 1927 by Luling's oil king, Edgar B. Davis, for agricultural diversity education. The 96th annual Farm Field Day is May 18. Call 830-875-2438 to schedule a tour, 8 a.m.-noon or 1-5 p.m., Monday-Friday.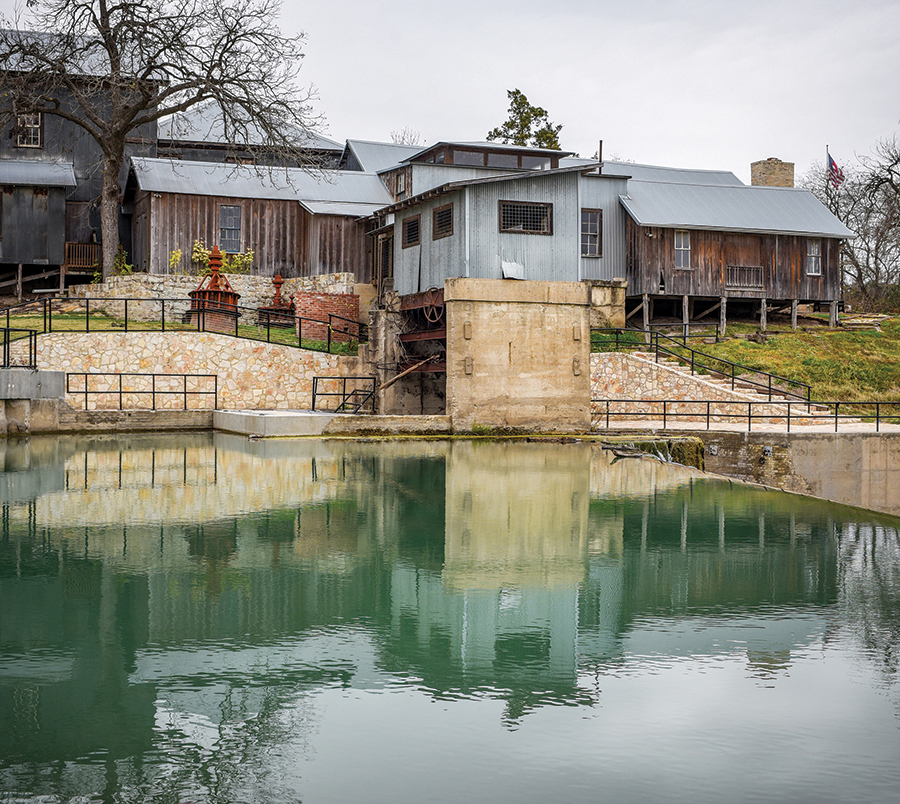 Zedler Mill Museum and Park, 1170 S. Laurel Ave., a tranquil setting to learn about the mill and cotton gin's history; 8 a.m.-3 p.m. daily, free admission. The park is also the takeout spot for the 6-mile Luling Zedler Mill Paddling Trail along the San Marcos River. 
Palmetto State Park, just 9 miles south of Luling, 78 Park Road 11 S., Gonzales; visitors can hike, swim, fish or camp; 8:15 a.m.-4:45 p.m., daily. Day passes $3 a person, free for children 12 and younger.
GRAB A BITE
City Market, 633 E. Davis St., 10 a.m.-6 p.m., Monday-Saturday; a stop on the Texas barbecue trail and regularly featured in Texas Monthly's list of the best barbecue restaurants. Try the ribs, sausage and beef brisket.
Other dining options ranked in Tripadvisor's top restaurants in Luling are: 
Blake's Cafe, 621 E. Davis St., 11 a.m.-3 p.m., Monday-Tuesday; 11 a.m.-8 p.m., Wednesday-Saturday. 
Mom's Front Porch, 401 E. Davis St., 6 a.m.-6 p.m., Monday-Friday; 6 a.m.-4 p.m. Saturday. 
Meme's Mexican Restaurant, 942 E. Pierce St., 6 a.m.-2 p.m., Monday-Saturday. 
STOP AND SHOP
Luling has several boutiques and gift shops run by local entrepreneurs. Here are four located on East Davis Street, the town's main street.  
Luling Original Farmer's Market, 708-798 E. Davis St., a variety of vendors sell produce, landscaping products, plants and other seasonal goods; 9 a.m.-7 p.m., daily.
For quilters, Holly Dee Quilts, 509 E. Davis St., sells fabric, thread, books and notions; 10 a.m.-4 p.m., Tuesday-Saturday. Owner Denise Green hosts a variety of weekly quilting classes for all skill levels; information and schedule online at hollydquilts.com. 
KK's Antiques & Collectibles, 527 E. Davis St., also sells art, plus vintage candy and soda; 10 a.m.-6 p.m., Monday-Saturday; 11 a.m.-5 p.m. Sunday. 
Luling Emporium, 609 E. Davis St., sells antiques, furniture, gifts and collectibles; 10:30 a.m.-4 p.m., Monday-Saturday and 11 a.m.-4 p.m. Sunday.  
OTHER SHOPPING STOPS
Craving Beaver Nuggets? Visit Buc-ee's, 10070 W. I-10, for gifts, food and everything in between; open 24/7/365. A 75,000-square-foot Buc-ee's under construction at the location will become the largest in the U.S. and is slated to open in 2024.
Luling Icehouse Pottery, 1115 E. Davis St., sells and displays clay-crafted pottery, and hosts pottery classes for children and adults; 10 a.m.-6 p.m. Monday, Thursday-Saturday; 1-5 p.m. Sunday.
TIPS FROM LOCALS
If you don't know how much meat to order by the pound at popular City Market, speak to the staff in sandwich terms. "Tell them 'I want enough sliced brisket for 3 sandwiches' and they know how much you need," said Ashley Flores, Luling Chamber of Commerce executive director. Plus, don't forget the bread, pickles, onion and peppers in the back room.
This is part of a series of guides on spending a day in one of Bluebonnet Electric Cooperative's service area communities.