Solar power, battery storage and EVs were the talk of the day
By Sidni Carruthers
THE MORNING started off overcast and chilly, but that did not deter almost 100 Bluebonnet Electric Cooperative members from attending the co-op's 2022 Energy Expo on Oct. 22. It was Bluebonnet's seventh renewable energy event for members.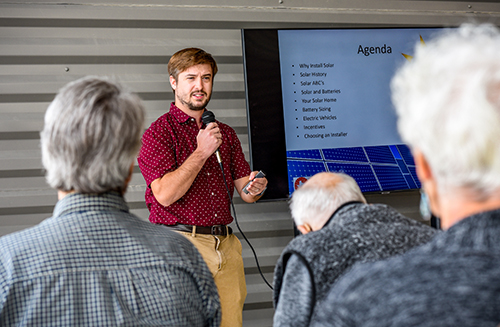 The Energy Expo, previously known as Solar Day, was at the cooperative's service center in Maxwell, midway between Lockhart and San Marcos in Caldwell County. It was the first year Bluebonnet has offered the in-person event since 2019.
This year, in addition to receiving expert information, hearing a detailed presentation and getting answers to questions about solar energy systems, members learned about residential battery storage arrays and electric vehicles.
As it has in previous years, the Texas Solar Energy Society offered a Solar 101 presentation and an installer fair. One Bluebonnet member who has both a solar system and battery storage at his home answered questions about his experience.
Bluebonnet staff members talked to attendees and provided information about the increasingly popular topic of whole-house battery systems that can store power generated by home solar arrays. Also included in the day's events was information about electric vehicles and tours of Bluebonnet's Maxwell service center, which has 292 solar panels and two rainwater collection tanks that each hold 30,000 gallons of water.
Micah Jasuta, a member of the nonprofit Texas Solar Energy Society and its former board chairman, provided a presentation about how solar installations work, their costs, how effectively they reduce power bills and what questions to ask installers. He also spoke about common myths and misconceptions about solar-generated power, best practices when choosing an installer and the basics about battery storage.
After learning that the federal government will continue to  offer — and increase — tax credits for renewable energy and battery storage systems, Bluebonnet members Bob and Nancy Arnold decided to make the drive from Lexington in Lee County to attend the event. "We want to do our due diligence," Bob Arnold said. The couple has been looking into solar energy systems for several years.
Stephanie Morales, a Bluebonnet member from Dale in Caldwell County, came to the Energy Expo in search of the latest information. "I know solar has been around a while, but I know batteries have improved, so I want more information to make the most educated decision on whether to go solar or not," she said.
The most interesting part of the event for Audrey Castro, a Bluebonnet member from Cedar Creek in Bastrop County, was Jasuta's presentation.  "He had a ton of information, some I knew, but some I didn't know," Castro said.
Bluebonnet has had a 32% increase in the number of solar energy installations on its grid since 2021, and the co-op estimates that pace will continue for several years.
To learn more about renewable energy, go to bluebonnet.coop/energy-solutions, or call member services at 800-842-7708. Get more information from the Texas Solar Energy Society's website, txses.org.