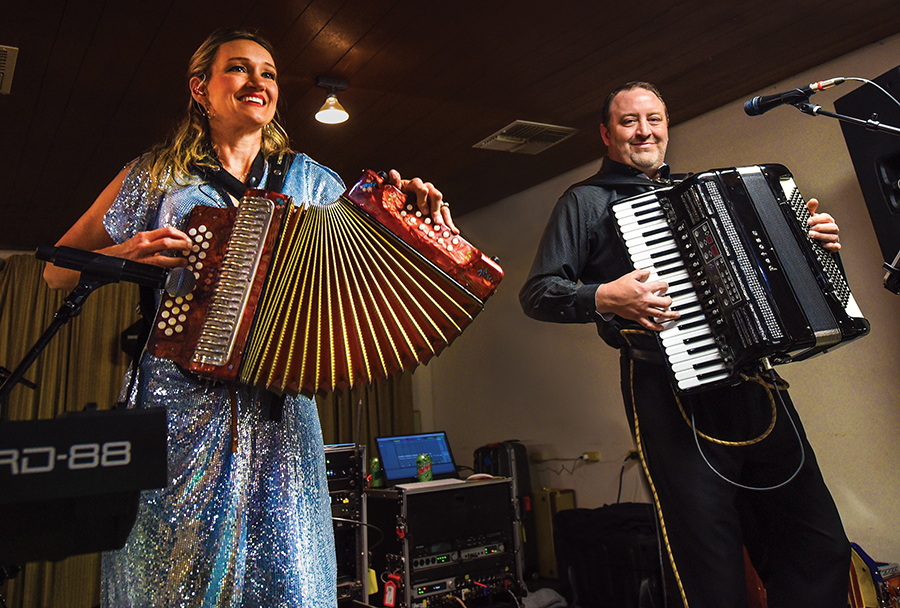 Immigrants brought polka to Texas generations ago, and the beat goes on. Devotees of all ages still swirl around dance floors across the Bluebonnet region
By Clayton Stromberger
It's early on a Friday night in Fayette County, and the grassy parking lot of the Round Top Rifle Hall is already full. This evening's special event is sold out: a four-hour show by Mollie B and SqueezeBox, an Ohio-based polka band, in the middle of its much-anticipated annual winter tour through the polka hot spots of Texas. Inside the 141-year-old hall — lovingly cared for by members of the Round Top Schützen Verein, or shooting society, formed by the community's German immigrants in 1873 — recorded polka music plays over the loudspeakers, and folks chat, greet friends and take their reserved spots at the tables lining the wooden dance floor. 
The crowd is a mix of local residents, polka lovers from communities near and far, old-timers serenely surveying the scene and families with young children. Schützen Verein members sell cold Shiner Bock longnecks at the far end of the hall for $3 (cash only), and a dinner waits to be served during a break. 
 Then the four-member band takes the stage. After a few words of greeting, it's time for the polka party to begin. The unmistakable sound of a push-button accordion kicks in with a cheery whoosh of bellows-driven air, and two voices singing in close harmony — bandleader Mollie Busta Lange and husband Ted Lange — glide above the brisk drumbeat and bouncy bass line:
Let's … dance … the polka …
Twirling around the floor
We'll all clap our hands
    and we'll shout for more
Doing the party polka …
The best dancers are up first, hopping eagerly out of the hall's metal folding chairs and hitting the floor with gusto. Within seconds their feet move in perfect sync: one-two-three … one-two-three … one-two-three... 
Others follow their lead, and the hall becomes a swirl of movement. Older couples who've danced together since they were first courting take hands and begin working their way slowly around the floor – the knees may not move like they used to, but the steps are instinctive after so many years, so many dances. A dad in cowboy boots dances sweetly with his young daughter, while a mom and her young son spin around the floor, inventing their own steps as they go. A grandfather smiles as he dances with his granddaughter. Weaving between the dancers, Michael Sacks — one of the event organizers — shakes some sawdust from a can onto the floor, seeking just the right amount to provide glide.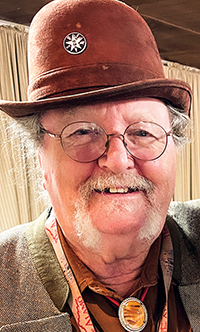 "Everybody's happy!" said polka expert and Texas Polka News editor, photographer and chief correspondent Gary E. McKee of Fayetteville, watching with approval from near the stage. "Everybody."
Every weekend is a polka weekend in the Bluebonnet region, if you know where to look. 
Somewhere in these parts, on any given Friday night to Sunday afternoon, the sounds and melodies carried across the ocean from Central and Eastern Europe generations ago are ringing out — perhaps from the stage of an old SPJST or American Legion dance hall, or at a wedding anniversary celebration or even from a kitchen radio tuned to a weekly polka show. Wherever polka plays, you can be sure someone within earshot reaches for a dance partner.
"It's a lively music," said polka legend Alfred Vrazel, a resident of Buckholts in Milam County who played in his own polka band for decades. His weekly radio show has beamed polka into parts of the Bluebonnet region from KMIL-FM in Cameron since 1955. "Happy music for happy people," he said.
The Texas polka culture began with the Czechs, Germans and Poles who immigrated to Texas in the 19th and early 20th century, bringing their music and favorite dances — and sometimes even their musical instruments — with them. Historians debate the origins of polka, but many believe the dance, which may have evolved as a fast version of a waltz, came to life in a village in Bohemia, now part of the Czech Republic. By the 1840s polka was one of the hottest dances in Europe and "polkamania" hit the big ballrooms of Paris. 
"Polka was big in parts of Texas in the first half of the 1900s through the 1970s," McKee, 69, said. "It was the culture, it was the old country, it was the sound their families grew up with in Central Europe. The Czech language, for example, was spoken quite frequently as a first language up until the 1950s. When I was growing up in Schulenburg, some of my friends spoke German or Czech until they got to grade school."
Polka's rise in areas of Texas was mirrored by its growing fan base in the Midwest, especially Chicago, which is associated with Polish-style polka, and Cleveland, home base of Slovenian polka star Frankie Yankovic, "America's Polka King." Yankovic had a string of hits in the late 1940s. Polka is the official state dance of Wisconsin, and "Beer Barrel Polka" is still performed in the seventh inning stretch at Milwaukee Brewers' baseball games, in addition to the traditional "Take Me Out to the Ball Game."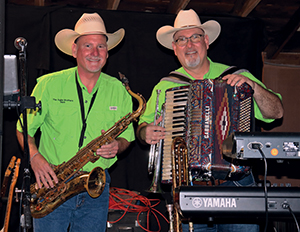 There was a time when, in certain pockets of this part of Central Texas, you could hear a polka band several times a week, McKee said. "In my database I have over 4,200 dancing events from 1900 to 1980 for Fayette County," he added. 
The legendary bands of the time — such as the Baca's Band and Orchestra of Fayetteville, formed in 1892 — would play up to 300 gigs a year in the 1930s, "but they never had to go more than 30 miles," McKee said. The concept of the weekend didn't yet exist in that mostly agricultural era. Farms required hard work seven days a week, so dances and weddings were often on weeknights or Sunday afternoons. 
The names of the great bands from that heyday of Texas polka are still spoken with affection and reverence in this area: along with the Baca's Band, you often hear of Lee Roy Matocha ("The Fayetteville Flash"), Vrazels' Polka Band from Buckholts, the Joe Patek Orchestra from Shiner, the City Polka Boys from Houston, the Leo Majek Orchestra from Cameron, the Hi-Toppers Orchestra from New Braunfels, and the list goes on. That was when polka was king.
Even Willie Nelson started out in a polka band, getting his first gig at age 10 playing guitar with the John Rejcek Bohemian Polka Band at beer halls around West, north of Nelson's hometown of Abbott.
Competition from television and the rise of Sunday afternoon sports on TV began to put a dent in polka's popularity in the 1960s, McKee said. And of course every generation seeks its own music. In the 1920s, young people were drawn to jazz and swing, and later it was rock 'n' roll or country and western as the hot new thing. In the disco era it became trendy to hire DJs for dances, reducing the demand for live bands.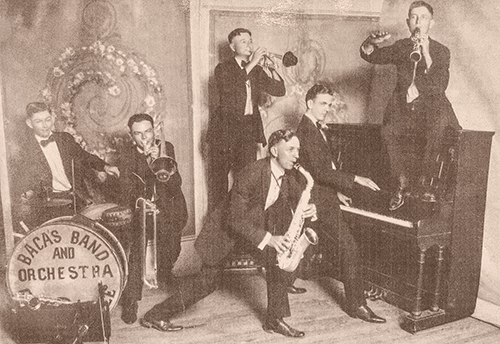 But polka has weathered all those cultural changes and survived, mostly thanks to those who love to play this music, or dance to it or just listen to it. They are determined not to let it slip away.
"It's not fading, it's changing," Gene Hackemack of Burton said as he watched Mollie B and SqueezeBox swing into another jaunty number. Hackemack has played the accordion in polka bands for many years, and once famously helped wake up the astronauts on the space shuttle in 1995 with a live performance of "Beer Barrel Polka," earning him a plaque from NASA commending the "first polka in space." 
Hackemack grew up in Burton in Washington County — "I'm a fifth-generation Texan and I still speak German," he said proudly — and remembers the family listening to polka together when he was young. "We sat around this little radio and listened to KWHI in
Brenham, the 'Polka Party Hour.' " The dance hall bands today have to dip into a variety of musical genres to reach a more diverse audience, he said. "They're mixing it with a lot of Texas country music."
Those who love to polka don't mind driving a while to get to a dance. 
"It just brings the whole family together," said Raymie Kana of Columbus, who wore her "Polka On!" button to the Mollie B show. "It's like going back to the old days, when you brought your kids out on a Friday night. You don't see that at a country and western or rock 'n' roll show." 
Kana grew up going to dances as a little girl, and, in a ritual familiar to many in the crowd, her parents made a pallet under the table so she could fall asleep as the dancing went into the wee hours. She and her husband go to polka dances several times a month, anywhere from Eagle Lake in Colorado County to Hallettsville, Shiner and Moravia in Lavaca County. This was her "eighth or ninth" time to see Mollie B and her band on tour. 
"I love to polka, love to waltz," Kana said. "My husband doesn't dance, but he lets me dance, so it's all good." 
Alfred Vrazel recalled that while he played in Vrazels' Polka Band with his brothers and cousins, "we never made much money, but we made a lot of friends. We were very close to our audience. It wasn't, and still isn't, uncommon for people to drive hundreds of miles to a polka dance."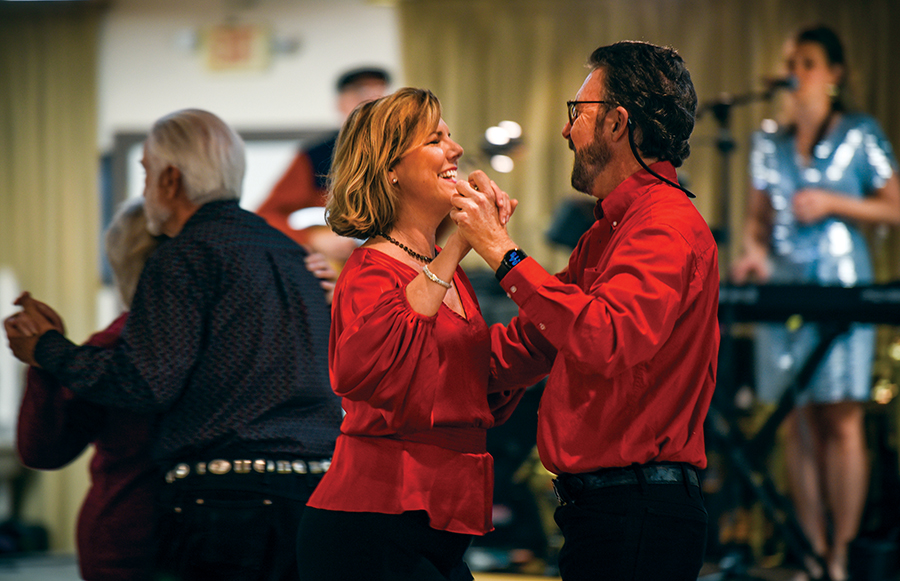 Dance partners Louis Stewart Jr. and Paula Amsler drove to Round Top from Moulton in Lavaca County and Kingwood in Harris County, respectively, to see Mollie B. They had also driven to Hallettsville the night before to see the band play there. "We keep track of our steps and miles," grinned Stewart Jr. displaying his fitness-tracking watch. "Last night we did 23,000 steps and 12 miles of dancing!"
Amsler added: "I love polka because it's such a high-energy, fun dance. You'll see a lot of two- and three-year-olds just bouncing to the music. If you can count to three, you can do it."
Brad Kieschnick and Megan Hughey from Cat Spring in Austin County — one of the younger couples on the dance floor, at ages 46 and 31, respectively — had also been at the Hallettsville show the night before. "It brings us a lot of happiness and joy," Kieschnick said. "I wish more people our age would be interested in this kind of dancing. We're trying to keep it alive."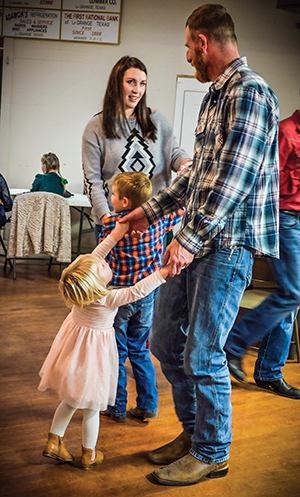 Some polka weekends in the Bluebonnet region are bigger than others, especially if it's time for a community festival such as Maifest in Brenham, the Kolache Fest in Caldwell or one of several annual celebrations at the Texas Czech Heritage and Cultural Center in La Grange. Those events usually feature several polka bands. Then there is the church picnic season, from spring to late summer. Polka lovers say these gatherings at small historic churches throughout the area are some of the best opportunities in this region to hear and dance to Texas' Czech-influenced polka music. 
There are also two museums in the region for those who want to learn more about the history of polka in Texas. (See list, below.)
The more you dive into the world of polka, the more you discover how deeply the music is woven into the fabric of many area communities. In Giddings in Lee County, Spencer Schneider is city manager and has been a drummer in several polka-focused bands, including the Central Texas Sounds from Fayetteville and the Ellinger Combo, a well-loved band formed in the community of that name in Fayette County in the 1960s. Schneider started playing music as a young man in Giddings in 1975, focusing on country and rock, but he gradually worked his way back to polka, he said.
"My roots in music, because of my dad, was always listening to as much polka music as possible," Schneider said. "When he listened to the radio, it was always set to polka music, so that's what you listened to also."
Twenty miles to the south in La Grange, Mark Hermes, a Hallettsville native and director of the Texas Czech Heritage and Culture Center, is also in a polka band — the Czechaholics. The band plays 40 or so shows a year. 
"That's what we grew up on," Hermes said. "It's our heritage, it's something we love to play, we love the sound. You can't listen to it and be upset. And if we don't do it, who will?"
 The folks who grew up in the glory days of Texas polka may be getting older, but they don't show it on the dance floor. At the Mollie B show, Betty and Ronny Sacks — who opened Round Top Mercantile in 1984 — beamed as they waltzed and polkaed their way around the hall. "I grew up dancing from 'this high,' " said Betty Sacks, holding her hand just a few feet off the ground. "I learned to dance with my mom and dad. Dancing is just a form of having fun and enjoying life." 
"German aerobics!," chimed in Ronny Sacks, who grew up going to dances at Rifle Hall.
Today's polka bands tend to mix in waltzes. "The polka crowd is getting older, and you can't play ten polkas in a row. The waltzes are a bit easier for them," said Mark Dujka of the Dujka Brothers polka band, which he formed in 1986 with his brother John. The brothers grew up on a farm in the blackland prairie region of Fort Bend County, southwest of Houston. They play various instruments, backed by a bass and drum track laid down by the Dujkas themselves. John Dujka lives near Brenham now, and Mark Dujka still lives in Fort Bend County. 
The polka tradition is passed along note by note, step by step. In pockets of the Bluebonnet area, it plays on, buoyed by the hope that a new generation will pick up the accordion when the time comes.
"My brother and I grew up going to the community festivals and church picnics and heard a lot of the old bands play," said John Dujka, who is a music professor at Blinn College in Brenham. "Before all the TV and other competing media, what did people do? They went to dances and celebrated life. 
"That's the thing that keeps us engaged in it. We enjoy seeing our friends, and the music brings back fond memories of our youth as well, of our grandparents, of other bands before us. It's a tradition that we're trying to keep going." 
*
Lively conjunto music's roots in immigrants' polka
More than a century ago, in the days before widespread radio broadcasts, Mexican and Mexican-American musicians in South and Central Texas first began to hear an irresistible new sound pouring out of dance halls in communities formed by Czech and German immigrants.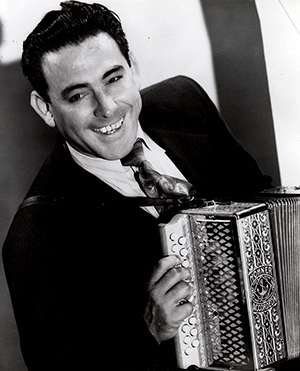 The upbeat rhythm of polka music, played on a diatonic button accordion — where one side of buttons plays the melody, the other the bass chords — caught the ears of these creative folk artists, who were then inspired to introduce the European instrument into their traditional Mexican ensembles of guitar, violin, contra-bass, and a "ranch drum," often made of goatskin. 
Eventually the six-string guitar was replaced by the thumping bass beat of the 12-string bajo sexto guitar, and out of this fusion emerged a new sound that came to be known as norteño, for Northern Mexico, or conjunto, which means "musical group" in Spanish. Like jazz or the blues, conjunto is a unique and durable musical form born in the United States, and in this case primarily in Texas. 
In parts of South Texas, according to polka writer and historian Gary E. McKee, Czech and Mexican immigrants working as farm laborers "bonded together over music, borrowing each other's sound and rhythms."
The upbeat feeling of polka found a similar expression in this new form.
Conjunto surged in popularity beginning in the 1930s — the same time polka was hot in Texas — with the release of popular records by Narciso Martinez, known as the
"Father of Conjunto," and Santiago Jimenez, the father of conjunto legend and Grammy Award winner Flaco Jimenez.
The music's enduring impact in Texas can be heard May 17-21 in San Antonio, when the Guadalupe Cultural Arts Center hosts the 41st annual Tejano Conjunto Music Festival.
*
5 fun facts about polka
1. Polka was so popular in the late 1800s in Europe that the prefix 'polka' was added to product names to make them more desirable. One familiar example? The fabric pattern of identically sized, close-together filled circles known as "polka dots." 
2. According to the Handbook of Texas online, both the Poles and the Czechs at various times have claimed credit for being the originators of polka dancing. The Czech word pulka means "half-step," which fits with the 2/4 time of a polka dance; in Polish, polka translates as "Polish woman." 
3. The accordion, integral to a polka band, is part of the wind instruments family and was invented in 1822 by Friedrich Buschmann in Germany. 
4. The longest-running polka festival in Texas is the National Polka Festival, which began in 1967 in Ennis, south of Dallas. It is still held there every Memorial Day weekend. 
5. The first Grammy Award for Best Polka Recording went to Frankie Yankovic in 1986. The award category was retired in 2009 by the National Academy of Recording Arts and Sciences, to the disappointment of polka lovers. Polka music now falls under the Grammy categories of folk or world music.
*
See Texas polka history at two museums in the region
Polka Lovers Club of Texas Museum, La Grange
275 W. Fairgrounds Road, La Grange (next to the Texas Czech Heritage and Cultural Center); open during Texas Czech Heritage and Cultural Center events at the Fayette County Fairgrounds or by appointment. Visit plctm.com; email Gary Bucek at info@plctm.com or call 713-252-2162; admission is free, but donations are welcome.
Texas Polka Music Museum, Schulenburg
The museum, 712 Lyons Ave. in Schulenburg, has recordings of polka music, listings for DJs and bands, and exhibits of instruments, photos and costumes; 10 a.m.-3 p.m., Thursday, Friday & Saturday, call 979-743-4752 or visit texaspolkamuseum.com; admission is free, but donations are welcome.
*
Tune in to a polka radio show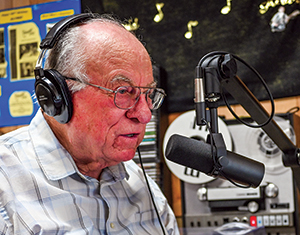 Polka radio shows are still going strong, and there are several you can hear in or near the Bluebonnet region. Some you can hear live online at the stations' websites. The shows include: 
• Alfred Vrazel's Polka Show (on the air since 1955): KMIL 105.1 FM, Cameron, 12:15-2:30 p.m. Sunday
• Larry's Polka Time with Larry Sodek: KLVG 1570 AM, La Grange, 12:45-2 p.m. Monday-Saturday, on both KVLG-AM and KBUK 104.9 FM noon-4 p.m. Sunday
• Texas Polka Time with Mark Stanley: KWHI 1280 AM, Brenham, 9-10 a.m. Saturday
• Czech Polka Time with Ronnie Horčica: KAGC 1510 AM, Bryan, 10:05-11 a.m. Saturday, 4:05-5 p.m. Sunday
• Saturday Morning Dance Time with John Dujka: KULP 1390 AM & 106.7 FM, El Campo, 10 a.m.-noon Saturday
• Michael Craig's Polka Show: KRXT 98.5 FM, Rockdale, 11 a.m.-noon Monday-Friday, 1:15-6 p.m. Sunday
• Czech Melody Time with Thomas Durnin: KOOP 91.7 FM, Austin, 7-8 p.m. Wednesday
Find listings of other Texas polka radio shows in the weekly Polka Weekend email newsletter (subscribe at polkabeat.com) or at the Texas Polka Music Museum website, texaspolkamuseum.com (click on "Polka DJs.")
Get more polka into your life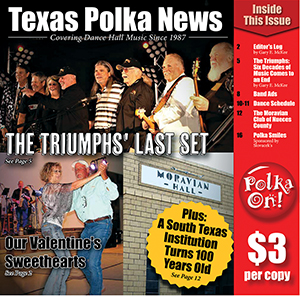 • The monthly magazine Texas Polka News, at right, has updates on musicians, history, events and activities in the Central Texas region and around the state; digital subscription is $27 a year; print and digital is $32 a year. Go to texaspolkanews.com and click on "Subscribe."
• Sign up for the free weekly Polka Weekend email newsletter to learn where polka is planned. Go to polkabeat.com, click on "Newsletter," then click on "Join our free email mailing list." Fill out the online form and click "Sign Up."