By Ed Crowell
Just ask any rural resident in the Bluebonnet Electric Cooperative region why dark skies matter.
Strolling onto open land and looking up at an endless array of stars, constellations and our own Milky Way galaxy can be a profound experience. Whether the lofty nocturnal scenery brings mere peace of mind or an altered sense of place in the universe, it is a powerful part of the appeal of rural living.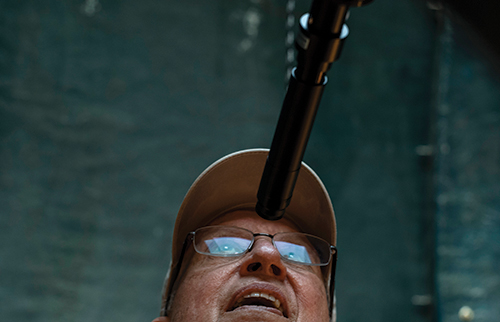 BLUEBONNET PROVIDES DARK-SKY COMPLAINT LIGHTS »
Unfortunately, seeing those star-spangled dark skies in the Central Texas region is getting harder. Light from growing cities and busier highways is reaching into in the region. And across the country, and the globe, dark skies have become a treasured commodity.                       
In North America, more than 80% of the population cannot see the Milky Way from where they live, according to U.S. government researchers and other scientists.
Texans are fortunate to have a swath of Far West Texas with some of the world's best dark-sky viewing.
More than 15,000 square miles, stretching from Fort Davis into northern Mexico, were recently designated the Greater Big Bend International Dark Sky Reserve. It is the world's largest such reserve, determined by the International Dark-Sky Association. There are 20 smaller reserves in Australia, New Zealand, Africa and Europe.
The reserve includes the University of Texas at Austin's McDonald Observatory, the Davis Mountains Preserve and Big Bend National Park, which has the least light pollution of any national park in the continental United States, according to the National Park Service.
The observatory's nearest major source of light interference is from large oil and gas drilling facilities to the northeast, said Stephen Hummel, dark skies initiative coordinator at the McDonald Observatory. "We're trying to get them to use sky-friendly lighting that aims down and saves them money, too."
Star parties and telescopes
There are still parts of the Bluebonnet service area where you can see starry sights on cloudless nights. The cooperative has been doing its part to preserve its members' nighttime views by installing dark-sky compliant outdoor security lights since 2014.
State parks and historic areas in Bluebonnet's service area offer some good places to stargaze.
Lake Somerville State Park, in Burleson and Lee counties, sometimes hosts star parties, and visitors can bring their own telescopes or use the park's large one. The park has been given a 4.5 Bortle rating, which promises some impressive night-sky viewing.
The Bortle Scale, devised in 2001 by amateur astronomer John E. Bortle of New York, ranges from 1 to 9. A rating of 1 indicates some of the darkest skies, such as those in Far West Texas, and a 9 represents cities where the night sky is lit brightly.
Five state parks in the Bluebonnet region rate a 4.5 or 5 on the Bortle Scale. McKinney Falls State Park in southeast Travis County rates a 7 because of its proximity to Austin.
Lake Somerville park ranger Lauren Kubica has been trained for night-sky viewing by the Texas Parks and Wildlife Department and enjoys leading star parties for park visitors.
"We have one Celestron NexStar 8 telescope for people to look through, but many people bring their own telescopes," Kubica said. "They also can use binoculars, which are a great way to start if they are new to astronomy.
"The moon is an awesome thing for showing detail. We also like to focus on Saturn. It's really great to see its rings through our telescope."
Reservations for viewings with Kubica can be made through the park's Nails Creek Unit at 979-289-2392.
Seeking the darkest skies
Some of the other darkest sky areas in the Bluebonnet region are north of Dime Box in Lee County; west of Lake Somerville in Burleson County; near Industry in Austin County; Kovar in Bastrop County; and Stellar and Muldoon in Fayette County.
Many Texas state parks have been replacing their outdoor lighting with night-sky friendly fixtures and bulbs. Those measures, however, cannot block out light interference from nearby towns and highways.
So far, six communities in Texas have official "dark sky" designation, but none are in the Bluebonnet region. Five are in the Hill Country to the west and the sixth is in north Texas.
The city of Smithville in Bastrop County is in early discussions about what it would take to become an International Dark Sky Community. Smithville now replaces any city-owned lights that stop working with night-sky friendly lights.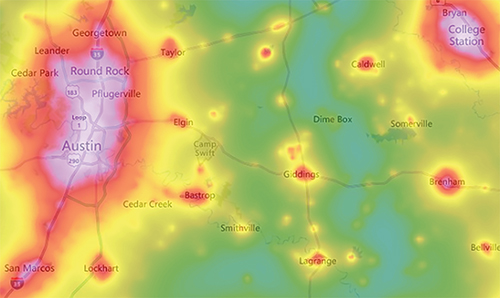 There are several online light pollution maps and guides that pinpoint light and dark skies around the globe and in your area. Examples include the National Park Service's night-sky monitoring database at NPS.gov (search for "skymap") or the light pollution maps on lightpollutionmap.info and cleardarksky.com.
Local astronomy clubs often sponsor viewing parties and other educational programs that can help anyone interested in learning about astronomy or astrophotography.
The Brazos Valley Astronomy Club, based in Bryan-College Station, operates an observatory dome on a ranch owned by Robert Smith, near the Lee County town of Lexington. The dome, which was refurbished by club members, is named the S&Y Observatory after Smith's late wife, Sandy. The dome sits atop a small building held aloft by heavy concrete piers.
Four or five people at a time can squeeze into the 10-by-10-foot observatory and enjoy the night sky through telescopes they bring to the site. A warming room next to the observatory was added to help avoid condensation on telescopes in the open-air dome. The rural site often has "pretty good skies," Smith said, which are rated at about 4 on the Bortle Scale. Helpful neighbors also keep their outdoor lighting low, he said.
Binoculars and laser pointers are used in the observatory to give less experienced visitors a tour of the stars.
One club member, Dr. Randall Light, a retired Bryan neurologist, has been an avid photographer of deep space since 2013.
His website, randalllight.com, shows examples of different styles of astrophotography, and his time-lapse photo near the Lee County observatory is on pages 18-19 of this magazine.
"When I look at the night sky ... it's amazingly beautiful and complex," he said, adding that he is often struck by the detail and complexity of what he photographs. "There's both a sense of real gratitude for the glory (of it) and a sense of how small we are. Yet, here we are, looking at this magnificent creation."
Stargazing tips and guides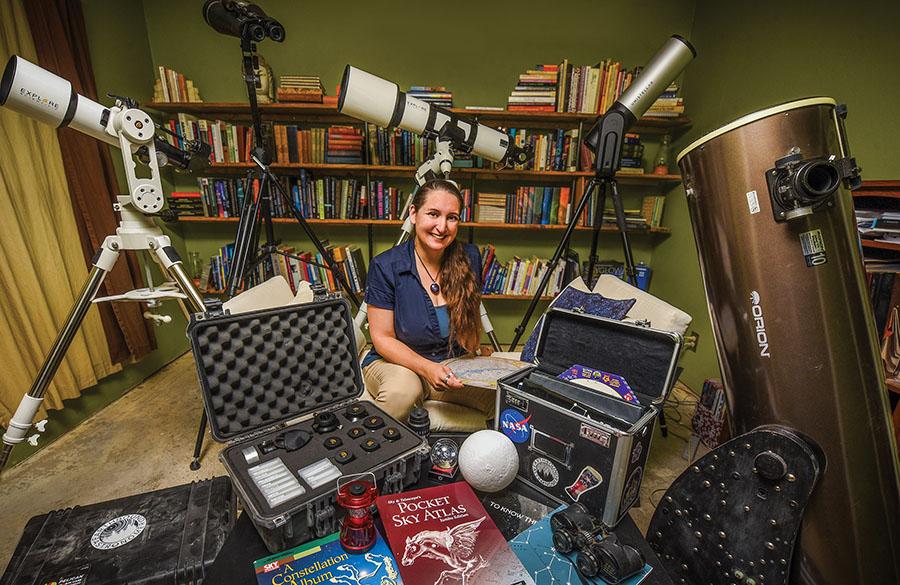 Amateur astronomer Dawn Davies of Austin created the Earthbound Astronomer website to help Central Texans interested in stargazing. She takes her telescopes and family to visit state parks and then writes an online report about each park's night sky viewing conditions.
Davies, a volunteer with the Texas chapter of the International Dark-Sky Association, camped with her family at Bastrop State Park as part of her ongoing research. Her report on earthboundastronomer.com notes that the park's hilly terrain and tall trees "limit the eastern sky and block visibility from on average 20 degrees down to the horizon. The western sky is a bit more forgiving with visibility from 10 degrees up.
"There is a more secluded clearing of (camp) sites in the back of the Copperas Creek camping area. Sites #46-49 yield level camp areas with good sky exposure and the least amount of noise" (from nearby Texas 71).
Soon after Davies moved to Texas in 2006, she joined the Austin Astronomical Society and remains an active member. She recommends astronomy clubs and their star parties for night-sky viewings because they are good places to learn the basics of observing planets and their moons, constellations, comets and eclipses. Astronomical Society members gladly share their telescopes and help new members identify celestial objects, she said.
Davies' advice for novices is to start simple with a pair of good binoculars.
Consider gazing at the Pleiades (also known as the Seven Sisters), one of the nearest star clusters to Earth. It's better seen with a pair of binoculars than a telescope, she said. "Start with a pair that don't require a mount. It is easier to share with others, unlike a telescope that would have to be reset to a person's height" for every viewer, she said.
Davies recently became night sky program manager for the Hill Country Alliance, a conservation organization. The group tries to help Texas communities improve their lighting to darken night skies. Smithville is planning an event with Davies as a speaker to discuss the city's role in any possible dark-sky measures, said Jill Strube, grants administrator for Smithville.
Across Central Texas, Davies and others are encouraging developers of new subdivisions to install night-sky lighting.
Some planners and builders still "don't think about light pollution because it's a new form, unlike air or water pollution. Mostly it is about education," Davies said.
Research suggests that artificial night light can harm mammals, amphibians, birds, insects and plants. "Plants and animals depend on Earth's daily cycle of light-and-dark rhythm to govern life-sustaining behaviors such as reproduction, nourishment, sleep and protection from predators," according to the International Dark-Sky Association.
The sky above us is the ultimate outdoor classroom and anyone can be a student, learning the mysteries of our star-studded dark skies.
STATE PARK STARGAZING
Six state parks in or near the Bluebonnet region rate 4.5 or higher on the Bortle Scale, which rates skies from 1 (darkest) to 9 (brightest). Some parks offer special stargazing events and assistance. Call the park's headquarters for information. Check for events locally or around the state at Texas Parks and Wildlife's stargazing calendar: online at tpwd.texas.gov/calendar (scroll down the index on the left to "stargazing.")
Bastrop State Park — 5
Buescher State Park — 4.5
Lake Somerville State Park — 4.5
Lockhart State Park — 5
McKinney Falls State Park — 7
Palmetto State Park — 4.5
START STARGAZING WITH BINOCULARS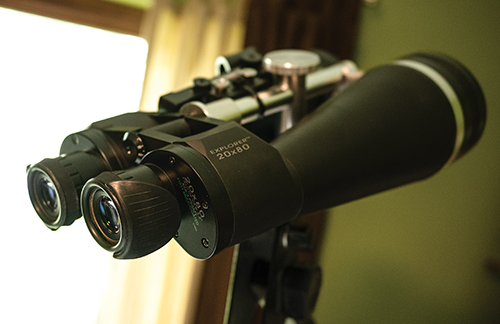 High-quality telescopes are expensive and require tripods and interchangeable eyepieces. The right binoculars are a simpler way to start looking at the night sky.
On space.com, a guide for beginners says the best binoculars balance magnification with how much light is let in. "For beginner stargazers, the ideal combination is a low magnification of around 7x to 10x and an aperture of about 42mm to 50mm. Such binoculars are generally small, lightweight and can be held reasonably steady.
Many stargazing binocular rankings can be found online, but those listed by several reputable third-party sources include:
Celestron's SkyMaster 15x70 ($100) or Cometron 7x50 ($36)
Meade Instruments 15x70 AstroBinoculars ($116)
Nikon Action 7x50EX ($138-$145)
Orion 20x80 Astronomy Explorer ($160)
Vortex Optics Crossfire HD ($179)
GET STARTED WITH AN ASTRONOMY CLUB
These regional organizations offer a good way to connect with other people interested in astronomy and to attend their star-gazing gatherings.
Brazos Valley Astronomy Club: Based in Bryan-College Station, the club, with about 25 active members, meets monthly at Texas A&M University. The group has two donated telescopes and access to a small privately owned observatory dome in Lee County; brazosvalleyastronomyclub.org.
Houston Astronomical Society: This large club, founded in 1955, offers programs for young people and novices as well as experienced astronomers. Trained members can use the society's observatory site 80 miles west of Houston (at an undisclosed location.) Monthly virtual meetings feature speakers; astronomyhouston.org.
Austin Astronomical Society: Monthly astronomy-oriented social and educational events include star-viewing parties at dark-sky locations and speakers ranging from former astronauts to Nobel Prize winners. Astronomy 101 classes are held for beginners. Recent issues of the club's monthly magazine "Sidereal Times" are available at austinastro.org.
WEBSITES & APPS WORTH WATCHING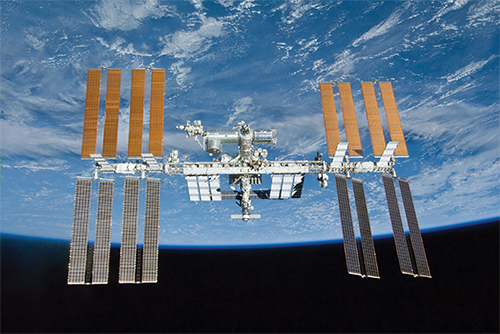 Spot the International Space Station at NASA's spotthestation.nasa.gov. Enter your location and sign up for alerts when the space station will be visible from your location. Get a week's worth of sighting dates on the site.
Night Sky Network from NASA offers a guide to astronomy clubs and events, and a night-sky planner that allows you to type in your location for a forecast, nightsky.jpl.nasa.gov.
EarthSky.org (from Austin-based science journalist Deborah Byrd) gives "updates on your cosmos and world" with everything from news about celestial events to a detailed "best places to stargaze" map of the globe.
Clearoutside.com provides detailed forecasts of weather and sky conditions in your area for the next seven days.
The University of Texas McDonald Observatory in Far West Texas offers StarDate.org, a website with lots of online resources, including an "In the Sky This Month" feature that lists key sky events to watch for, such as meteor showers, eclipses and constellation appearances.
Apps: The Night Sky app for iPhone and the Star Chart app for Android devices let users point their smartphones at the sky and identify constellations, stars and planets.
MAJOR NIGHT SKY EVENTS COMING THIS YEAR IN TEXAS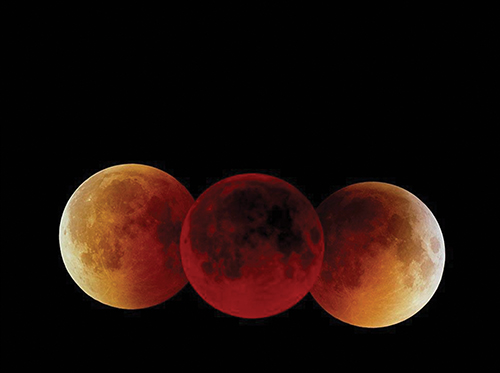 Meteor showers
Delta Aquariids, July 28-29: This shower produces about 20 meteors an hour at the peak; a new moon will make for darker skies.
Perseids, Aug. 12-13: Famous for producing a large number of fireballs, the Perseids meteor shower is regarded as one of the best of the year. The shower produces up to 60 shooting stars an hour at the peak; full moon.
Orionids, Oct. 21-22: Comet Haley is the parent of this meteor shower, which produces about 20 shooting stars an hour at its peak.
Leonids, Nov. 17-18: The Leonids meteor shower puts on an average show of about 15 meteors an hour this year.
Geminids, Dec. 13-14: Experts say the Geminid meteor shower is hands-down the best in the heavens, producing 120 multicolored meteors at the peak.
Total lunar eclipse
Lunar eclipses occur only during full moons, when the sun, Earth and moon align and allow the moon to pass into the Earth's shadow. The next visible eclipse from Texas is Nov. 8.
For more information, go to stardate.org/nightsky/meteors; timeanddate.com/astronomy; space.com; patch.com (Houston area)