Stories by Melissa Segrest
Photos by Sarah Beal 
The first time, they signed up for their country. The second time, they signed up for their community. Both times, they signed up for something bigger than themselves.

Nineteen employees of Bluebonnet Electric Cooperative are U.S. military veterans. They were in the Army, Navy, Air Force and Marines. They went when and where our country needed them – from 1966 to 2018, from Vietnam to Virginia, California to Afghanistan. They gave up family time, the comforts of home and the lifestyle most of us take for granted.

Now, their duty station is a 24/7 workplace that provides another essential service: providing safe, reliable electricity to more than more than 114,000 meters in 14 Central Texas counties.

Both jobs honor duty and responsibility. They work to protect many people they may never meet. Each employee is one on a team of many, and the team is the way the job gets done.

That's double duty to serve the masses. But duty, it seems, is their destiny.

- Denise Gamino
 
Taylor Rutledge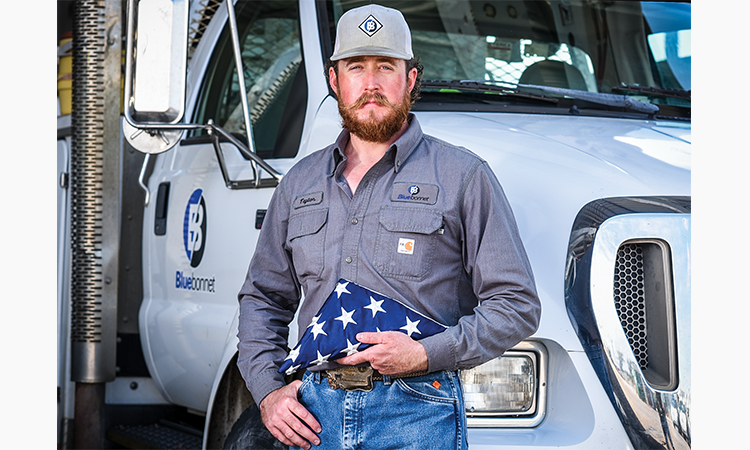 Taylor Rutledge holds the American flag that flew in the back of his medevac unit's Black Hawk helicopter in Afghanistan.
A winding, remarkable path brought 28-year-old journeyman line worker Taylor Rutledge to Bluebonnet Electric Cooperative.

He grew up in Hooks, a small town 15 miles west of Texarkana. At 19, he quit his job on a cattle ranch and headed for an Army recruiter's office. "I told him I wanted to be some kind of mechanic," he said. His twin brother was already in Air Force basic training and his parents agreed with his decision.
 U.S. ARMY, SERGEANT 
2012-2015 
K-16 Army airfield, Seoul, South Korea;
Fort Bragg, N.C.; Jalalabad, Afghanistan
Bluebonnet employee for 3 years
Journeyman line worker
Lives in Bastrop

He went to Fort Jackson, S.C., for basic training, then to Fort Eustis, Va., for advanced training for helicopter mechanics. "They told me I could either do Chinooks, the big helicopters, or Black Hawks. I didn't know about either one, so I said, 'Give me Black Hawk.'"

He got what he asked for and was off to K-16 Army airfield in Seoul, South Korea, to do aircraft maintenance in an air assault company and train with Korean troops. "The city was huge. It was a culture shock," he said. Buddies finally tempted him off base, where he learned to use the subway and enjoy the food. "It was spicy, but I liked it."

He was in Seoul for a year.

Fast forward: He fell in love with a family friend's daughter, Samantha Diles, over Facebook chats from Korea, met her at the airport after landing from overseas, put in six months at Fort Bragg, N.C., before coming home to New Boston, Texas, in December 2013. They married and moved to North Carolina.

He knew something was coming. "We flew from Fort Bragg to El Paso and did high altitude training in the mountains of New Mexico, to adjust to low oxygen levels," he said. A few months later, in July 2014, Rutledge was deployed to Afghanistan as a member of an airborne medical evacuation unit. He was 21.

"I was fortunate. The medevac mission is pretty special," he said. His platoon went to Jalalabad in far eastern Afghanistan, a city flanked by mountains that dwarfed those of New Mexico.

His first mission was a nighttime 'hoist extraction.' A soldier had fallen down a cliff and had a concussion. "It's the hardest mission," Rutledge said, involving strapping an injured soldier to a "Sked" stretcher and hoisting him to a hovering helicopter. They were able to land the helicopter and return the soldier to base. "I wasn't scared but it was a little nervewracking. But you train so much it just becomes second nature."

In Afghanistan, Rutledge saw injuries, mass casualties and combat deaths. Once, an enemy explosive on a motorcycle blew up a seven-truck Army convoy. "One truck, one of the biggest in the Army, had 14 people in it," he said. "When we got there we couldn't even tell what kind of truck it was. It was a big ball of fire and metal. Two people were trapped inside. Everybody lived, but there were a lot of injuries."

After his nine-month stint in a war zone, Rutledge felt a sense of accomplishment. "All of the training was for that. It was put to use," he said. "Being an aircraft mechanic, you don't expect to do CPR or start an IV in a helicopter. It's a good feeling to know you did well in a horrible situation."

He finished active duty and joined his wife and daughter near Fort Worth. "I wanted to do something different, learn something new," he said. Rutledge attended line worker college in Denton and was hired by Bluebonnet in April 2018. He has been at the cooperative for 3½ years. He and his wife have two children, 5-year old daughter Laney and little Tate, born Sept. 16, 2021.

"I wanted to find a career that was bigger than just myself, more than just going to work and going home," he said. "Line work was an opportunity for me to do that and make a good living." Now he works out of Bastrop, making service calls and restoring power.

Line work can be stressful, but just like in the military, there is a lot of training at Bluebonnet. Rutledge isn't easily ruffled by schedule changes and outages. 

The Army tries to create leaders, and Rutledge still carries that mission. "I won't ask my crew to do anything I wouldn't do," he said. "I wouldn't ask them to walk through knee-deep water during a nighttime storm to restore power alone. No, we'll go walk out there together."
Matthew McGarr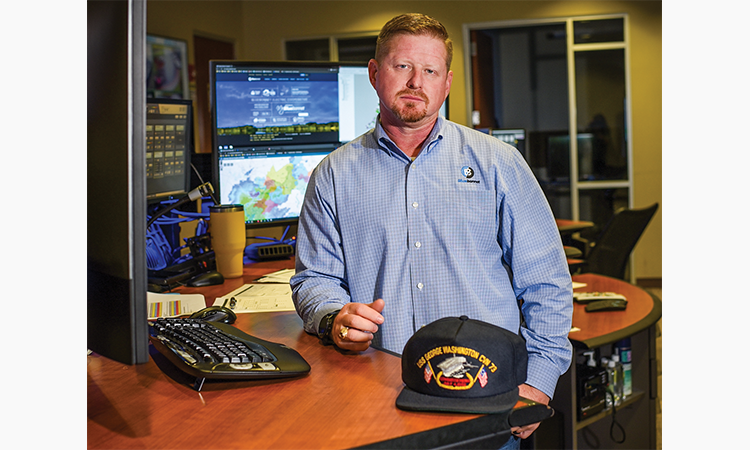 Since enlisting in the Navy at 18, Matthew McGarr has been working with computers and technology. "I was a computer geek with a clearance," he said. "In some ways, it's similar to what I'm doing now as a control center operator at Bluebonnet."

McGarr grew up in the Texas Panhandle and wasn't ready for college after high school. But the military made sense: His grandfather was in the Army in World War II, and his father flew Army helicopters in Vietnam.
 U.S. NAVY, PETTY OFFICER SECOND CLASS
1988-1994
London, England; Norfolk, Va.
Bluebonnet employee for 14 years
Control center operator
Lives in College Station

He reported for boot camp in San Diego in 1988, and, after an additional round of training, he was stationed in London for three years.

It wasn't the typical military experience. McGarr worked in the heart of the city but was not allowed to wear his uniform, because "the queen had tired of seeing uniforms in World War Two," he was told. Conservative banker attire helped him blend in, "except, when you opened your mouth everybody knew you weren't from there," he said.

McGarr was allowed to soak up London sites, sports and food in off hours. He traveled around Europe and even tried to teach some Brits how to play softball, with limited success.

After London he went to Norfolk, Va. for the remainder of active duty on the USS George Washington aircraft carrier, helping install technology and outfit the ship to operate.

The massive carrier housed 6,000 military members, essentially a floating town. McGarr's berth was just below the flight deck, so he learned to sleep through takeoffs and landings.

He completed active duty in 1994 and earned a bachelor's degree in information and operations management from Texas A&M University. He came to Bluebonnet in 2007 to work in the 24-hour control center, mastering a steady flow of new technologies that monitor Bluebonnet's electric system, power outages and line workers.

The military taught McGarr how to work with people who are under pressure and guide them through difficult situations, he said.

He has a short list of Navy takeaways: Take care of things early, before they become problems. What goes around, comes around. And, most important, "You are just a small part of everything. There's something bigger than you in life," McGarr said. "And you have to work as a team. Not everything can be done by you."
Jorge Varillas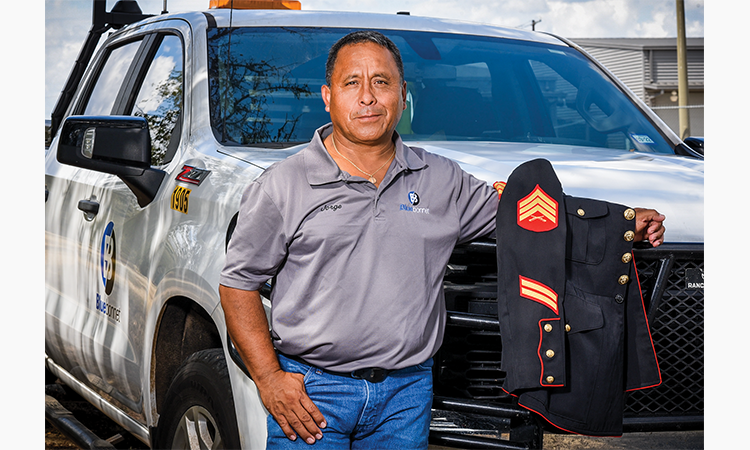 Before Google and YouTube made it easy to research the U.S. military, there was the legendary reputation of the Marines: tough, brave and unwavering from their mission. Jorge Varillas looked up to them and enlisted a few years after high school.

"I thought if I don't try it now, I might regret it. I didn't want to wonder what it might have been like 10, 20 years later," he said. Varillas left his home in Nixon, Texas, and went through three months of boot camp at the Marine Corps Recruit Depot in San Diego, then another three months of specialized training at the School of Infantry there.
 
"I didn't realize it was going to be such a mental challenge," he said. "I thought it would be mostly physical." The Marines demanded discipline, practice and precision. "The faster we got, the harder the drill instructors would get on us," he said. "If one person would mess up, everybody would pay for it."
 
 U.S. MARINE CORPS, SERGEANT
1990-2000
Camp Pendleton, Calif.
Bluebonnet employee for 26 years
Engineering project coordinator
Lives in Lockhart
Physical challenges were nonstop — miles and miles of running with a 60-pound backpack and a weapon. "The longest trek was mountain warfare training in Northern California," Varillas said. It involved rappelling and crossing rivers using carabiners on ropes. "Then a blizzard hit. There was three feet of snow. Training was canceled and we hiked 20 miles back to camp."

After California, Varillas returned to Texas and joined the Marine reserves at Camp Mabry in Austin. He trained for deployment to the Persian Gulf War in Iraq, which ended just before he was to leave. "I wanted to go," he said.

Most of his military training was in California until 2000. He briefly joined a joint military-Drug Enforcement Administration task force to patrol the Sequoia National Forest in search of marijuana farms.

Varillas started out as a beginner at Bluebonnet, too. He began with a brush crew to clear vegetation in 1995 while still a Marine reservist, then moved on to be a Bluebonnet line worker. After several years, he designed plans for lines and equipment for locations getting new electric service. Now he is a project coordinator in engineering and has been at Bluebonnet for 26 years.

The next generation of the Varillas family – one of his four children – has enlisted. His oldest, 20-year-old daughter Aracely, joined the Air Force in April this year, and is stationed in Germany. "There's a sense of pride in serving, I told her," he said.
Brandon Johnson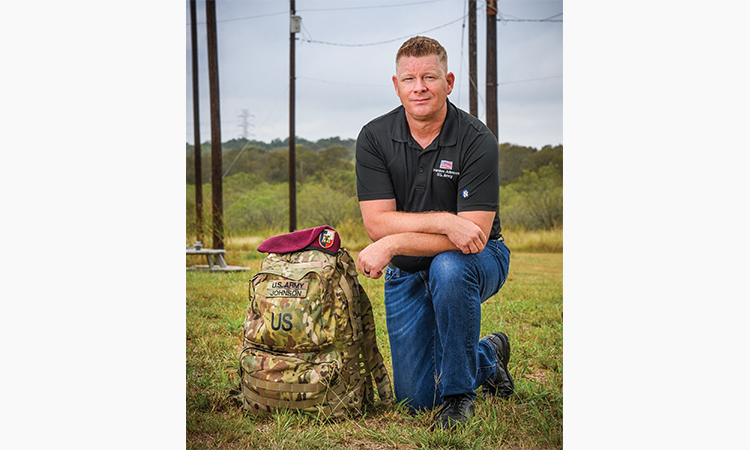 Brandon Johnson was 17 when he and a buddy signed up for the Army. The next year, 1991, he started basic training and quickly learned that life at Fort Benning, Ga., was a far, hot cry from his frequently frozen hometown of Tolna in North Dakota.

He went on to advanced individual training at Fort Benning. "I got to do a lot of challenging stuff I never did before – and probably never will again," he said. "Throw grenades. Shoot different caliber automatic weapons, anti-tank weapons. Learn how to set (remote-control) Claymore mines."
Next was airborne school at Fort Benning, and Johnson found his military calling: jumping out of an airplane.

Learning to jump and land correctly are essential. Paratroopers hit the ground going about 18 feet per second. "Feet, knees, legs together – twist and crumple your body to the ground, end up on your back with feet on the ground," Johnson explained. Those who walk off the landing zone without help after five airplane jumps have completed their training. U.S. ARMY, SPECIALIST
1991-1994
Fort Polk, La.; Fort Hood, Texas; Fort Benning, Ga.
ARMY NATIONAL GUARD, SERGEANT 
2014-present
Bluebonnet employee for 15 years
Safety and training supervisor
Lives in Bastrop 

He was a mortarman at Fort Polk, La. with his regular duty unit, even after it was transferred to Fort Hood, Texas, and became part of the 2nd Armored Division. Specialist Johnson's active duty ended in 1994.

If a military life didn't pan out, he wanted to become a line worker. After learning the job and working in Texas and Colorado, he joined Bluebonnet in 2005. Now he is Bluebonnet's safety and training supervisor.

His love for the jump never waned, and in 2014 he joined a National Guard unit in Mineral Wells, about 60 miles west of Fort Worth. He is a sergeant, going to drills several days out of most months. "I pack parachutes, various sizes of cargo chutes – we've dropped vehicles (from the air). And I still jump to stay current on requirements.

"It's an adrenaline rush, that anticipation of going out the door. It's more fun than coming down with the parachute open and seeing the view."

His unit is activated after disasters, like when he prepared supplies to be dropped by parachute into hard hit areas after Hurricane Harvey in 2017.

Safety training and squad leadership are compatible, he said. "My style of teaching and communicating work in both roles," he said.
John Horton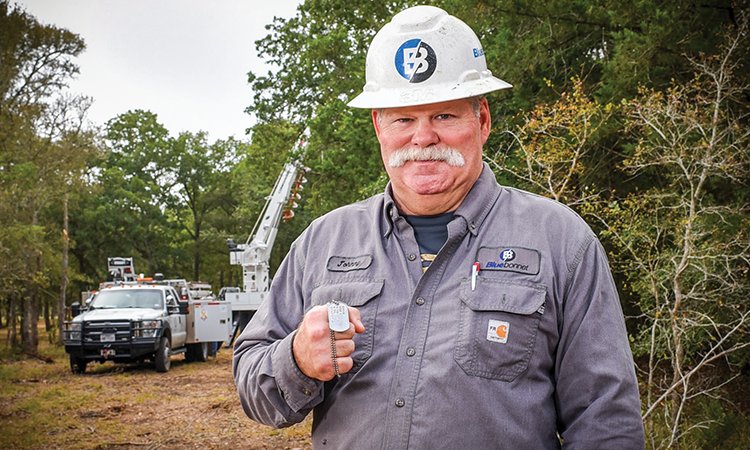 John Horton grew up in the small Texas town of Hamilton about 65 miles west of Waco and saw the Army as an opportunity to learn and grow. He began basic training in 1988, at 19, and was posted in South Carolina and Georgia before reaching his permanent station at Fort Hood in Texas.

He repaired radios used in Army helicopters — Hueys, Black Hawks, Apaches and Chinooks. Horton also worked on two-way radios used during weapons training.
 U.S. ARMY, SPECIALIST
1988-1992
Fort Hood, Texas
Bluebonnet employee for 1 year, 11 months
Journeyman line worker
Lives in Ledbetter 

At Fort Hood he was part of the 6th Cavalry Brigade, Air Combat, then the 13th Support Command Corps.

Although the Gulf War began in 1990, Horton was not deployed. "I kind of wanted to go, kind of wasn't sure," he said. "But I was prepared."

He recalled one day of loading equipment into trucks and traveling with a Fort Hood convoy to Houston, where their cargo would be shipped overseas. Much to his shock, one unfamiliar sergeant announced to him and his crew to finish up with their unloading, because "you're going!" Despite the misdirected command to head for the Middle East, Horton and his crew returned to Fort Hood.

Horton admits he was "a bit of a mouthy kid" before the Army. But the discipline of the military helped him learn how to be an adult.

"I learned how to treat others with respect, and how to earn the respect of others. To be honest with yourself and others. To work hard, and do what you say you're going to do," he said. "You had to learn how to be a good hand."

After 4½ years, Horton completed his Army stint in 1992. He worked at several electric cooperatives in Texas for years before coming to Bluebonnet in 2019. 

"I feel proud that I served in the military, even though mine was mostly a peacetime Army experience. I would still be proud to serve in the military," he said. "Your brother's standing next to you, going through the same thing you are, and you are there for them. You had to be accountable, every day."

That's a lot like being a line worker, which can also be a life-or-death experience. He urges younger people in the field to take their jobs as seriously as he does.

And though Horton hasn't worked on a military radio in a while, he doesn't dismiss the idea. "I still might be able to," he said.

Download this story as it appeared in the Texas Co-op Power magazine »