Be aware of scam attempts
Scammers are increasingly creative and aggressive in their tactics. Remember Bluebonnet will never call you asking for money immediately.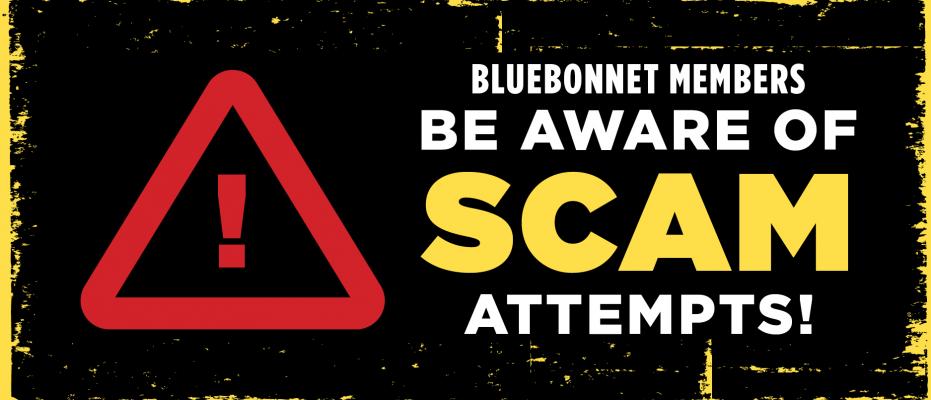 Bluebonnet members have reported an increase in phone-payment scams
Bluebonnet members periodically report increases in scam call attempt. This page will help you understand the difference between a legitimate call from the cooperative or an attempted scam.  
The facts
Bluebonnet Electric makes at least three attempts to remind members when payments are late – once by mail and again by a courtesy phone call and email (if we have the members email address) – within 10 days after the payment due date on the bill. The call comes from the cooperative's automated phone system. 

If you are a Bluebonnet member who has not received a reminder in the mail or a courtesy call about your account, and someone calls demanding an immediate payment, do not pay. Do not provide the caller with personal information, information about your Bluebonnet account, or any banking or credit card account information. 

Bluebonnet members can check their account status 24 hours a day, every day, from their computer, smartphone or tablet through the co-op's website, bluebonnet.coop, via the MyBluebonnet mobile app or by calling 800-842-7708. 

Along with fraudulent bill pay calls we also receive reports of other ways scammers try to defraud Bluebonnet members: 
Solar and renewable energy sellers who say they work for Bluebonnet. Bluebonnet Electric Cooperative does not employ or contract any company or individuals to install solar panels or any other type of renewable energy source at your home or office. We often work with solar and renewable energy companies, but they are hired by the homeowner or business and work for them, not Bluebonnet. Additionally, we do not go door-to-door selling anything. Always be aware of this if someone knocks on your door without prior notice saying they are with Bluebonnet.
Callers promising a zero-balance bill if you purchase their service or product. Solar or renewable energy representatives may claim that if you invest in their solar panels, you will no longer have an electric bill. This is not true.
Attempts at home robbery by people claiming to represent the utility. Be aware of people who come to your home claiming to represent Bluebonnet, or any other service provider. Bluebonnet employees carry photo identification badges, travel in company vehicles with logos on them and wear shirts with Bluebonnet's logo. Bluebonnet's contractors may contact members in person or leave a card at their door. Automated calls notify Bluebonnet members in advance of in-person visits. If the individual seems suspicious, or you are unsure of the organization they say they represent, do not let them in your home. Ensure the request is legitimate by calling Bluebonnet at 800-842-7708. 
A caller saying there is a merger with a neighboring utility, asking members to pay a new deposit. Bluebonnet has not merged with any other utility or company, and will not merge with any other cooperatives or companies that provide electric services. .

Report any potential scam attempts to Bluebonnet at 800-842-7708 and your local law enforcement agencies. 
If you are late on your Bluebonnet bill, we will make attempts to contact you at least twice, the first time by mail and the second by phone. When a member service representative speaks to you by phone, that representative will work with you and may help you set up arrangements to pay your bill.
If you are concerned that you may be speaking to a scammer, check the status of your Bluebonnet account online, through our MyBluebonnet mobile app, or by calling a member service representative at at 800-842-7708, 8 a.m. to 5 p.m., Monday through Friday. Our representatives verify your identity to ensure that you are the Bluebonnet member they are calling.  
When you first set up your account, if applicable, you will pay a deposit. After that, Bluebonnet never requires that you make another deposit to pay an overdue bill. The only exception is if you are requesting a security light or another service from the cooperative which requires a separate deposit. But if that is the case, you will already have been in contact with a Bluebonnet representative. 
Bluebonnet Electric Cooperative will never:
Threaten to disconnect services if you do not make an immediate payment
Ask you to pay with a prepaid card or demand a cash payment
Call you from an out-of-state number
Instruct you to call a number that is not Bluebonnet's
Sell you products or services by phone or door-to-door
If you believe you have been contacted by a scammer, please immediately call a member service representative at at 800-842-7708 from 8 a.m. to 5 p.m., Monday through Friday. Also please call the non-emergency phone number for your local law enforcement agency.
Bluebonnet only uses a collection agency when a final bill is not paid. If a member's meter is disconnected for non payment, and then they move out, they will be sent to our collection agency. Prior to that happening, Bluebonnet employees will contact members about paying any delinquent bills.
Bluebonnet will send members notifications of late/missing payments in the mail. After we have contacted you with a letter, we will call you and email you in the same day. Make sure that any email you receive from Bluebonnet has .coop at the end, otherwise it is not from us. Members who do not have their email address associated with their Bluebonnet account will not receive email notifications. 
Bluebonnet uses contractors for work such as line repair, tree trimming and right-of-way services, as well as other things like meter installation. Our contactors will always have a Bluebonnet contractor identifier on the side or door of their vehicle. If someone claims to be a contractor with Bluebonnet and they do not have this sign on their vehicle, then they are not hired by Bluebonnet. 
Here is an example of what our contractors have on their vehicles: