In area high schools, job and technical courses are growing alongside the demand for specially trained workers. Visits to classrooms at five Bluebonnet-area schools show the range of possibilities.
By Sidni Carruthers
Most weeks, teachers and staff at Del Valle High School can pick a day to skip the cafeteria burgers and dine at Cardinal Cafe.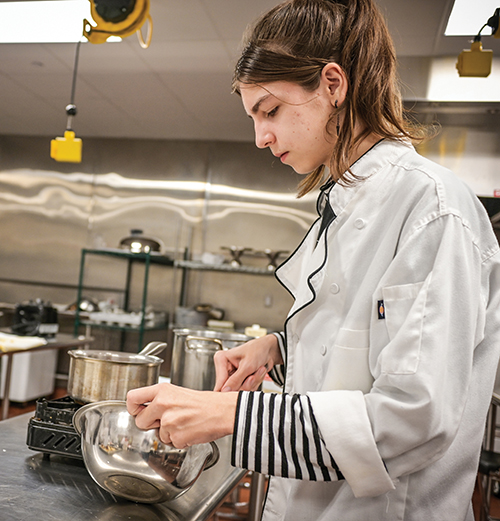 On a recent school day, William Maldonado, a sophomore, started at 8:45 a.m. to cook chili for approximately 100 Cafe diners. He works with other students in the school's spacious commercial kitchen, dining area and pastry kitchen, getting a feel for restaurant work by taking orders, waiting on tables and cleaning up after patrons leave. 
The dining area is simple — no white tablecloths or fancy dishes. The freshly prepared meal, which staff and teachers pay for, includes an entrée, two sides, dessert and a drink. It's a treat for the faculty and valuable training for students. 
Maldonado is learning about the culinary and hospitality field. His training ranges from the industry's history to the practical application of flavorings that bring out the best in a dish.
He is one of 470 students enrolled in Del Valle's culinary arts and hospitality services program. Students who complete the coursework have internship opportunities at area businesses, including the Hyatt Lost Pines Resort and Spa, the Austin Convention Center and hospitality venues at the Circuit of the Americas. They can graduate with certification of their training credentials in restaurant management.
If it has been a while since you went to high school — or you have a child or grandchild who isn't there yet — you might be surprised at the breadth of career paths that fall under the "career and technical" umbrella at schools across the Bluebonnet Electric Cooperative service area. A high school student can train to become a dental hygienist, medical assistant, pharmaceutical tech, welder, construction manager, HVAC technician, home inspector, pipefitter or dozens of other careers without needing a four-year bachelor's degree. Bluebonnet offers a four-year internship program in line worker training to area high school graduates. (See story, Page 20C)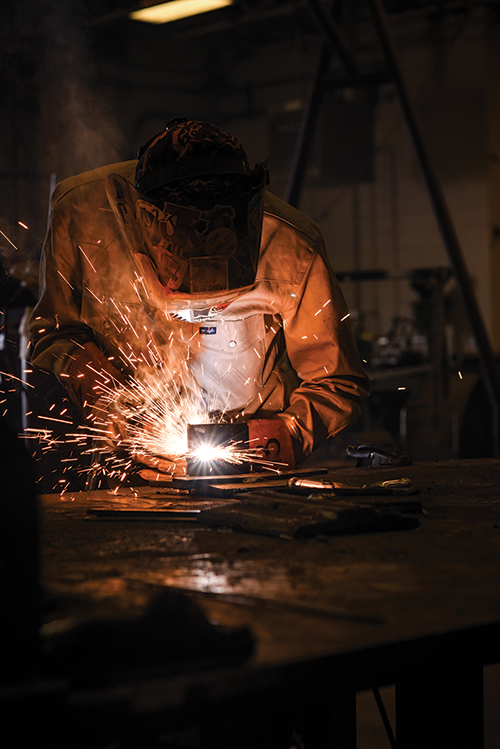 In Texas, public high school students are required to take at least four college or career readiness courses, according to the Texas Education Agency website. More career and technical classes are being added at high schools, and, in the Bluebonnet region, more students are enrolling in the courses. 
Career and technical jobs are abundant and they are the economic and employment mainstay of communities across the Bluebonnet region. Career and technical fields are expansive, essential and potentially lucrative. Trade industries are expected to grow 10% by 2028, according to the U.S. Bureau of Labor Statistics.
Area students can select from an ever-expanding variety of career and technical courses. Some offer certifications that can lead straight to a job. Other students plan to keep learning to get other certifications or an associate degree. 
Bluebonnet Electric Cooperative actively supports area high school students and has been awarding scholarships for decades. In the last five years, the cooperative has given out more than 130 scholarships totaling $332,500, all earmarked for students planning to continue career and technical educations after they graduate from high school. Bluebonnet also offers academic scholarships for students planning to attend four-year college and universities. (See story, facing page)
Recent visits to five high schools within Bluebonnet's 3,800-square-mile service area offer glimpses into classrooms where students are learning skills for an array of careers.  
Del Valle High School
Del Valle High School's career and technical education program is expansive and impressive. It has 22 four-year career programs, and about 80% of the high school's 3,400 students are enrolled in some career or technical sequence of classes.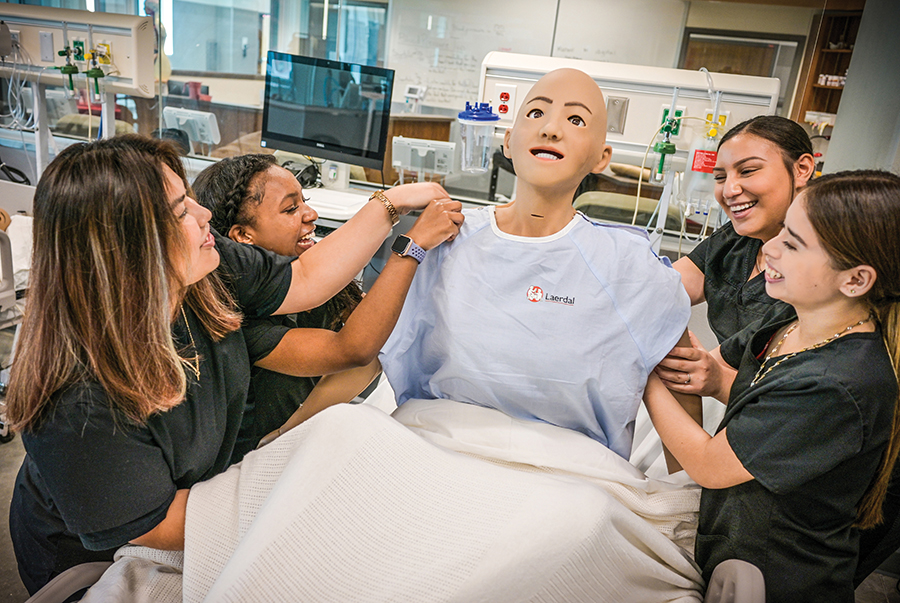 Students in the southeastern Travis County school can choose from 34 industry-based certifications while in school, from graphic design and animation to finance to construction management.
In addition to these, Del Valle ISD has two other career-based high school paths. Early College High School allows a student to earn a high school diploma and an Austin Community College associate degree simultaneously. The Pathways in Technology program is another partnership with both ACC and area businesses to train students in advanced manufacturing or cybersecurity while they complete high school, plus earn a certification and/or an associate degree.  
At Del Valle High School, many of the classrooms are nontraditional. Some replicate medical labs complete with computer-programed mannequins that simulate patients and can mimic symptoms of illness. There's a mock ambulance, too. The welding teaching area includes a large assortment of equipment and tools, including welders, pipe cutters, grinders and every machine in between. Graphic design classes are full of both computers and examples of student projects — including designs for mini cereal boxes, re-imagined record covers and mock-ups of new sneakers. Students can even work on their personal cars in the school's fully equipped auto mechanic shop. 
J. Norris Sebastian III, director of career and technical education at the high school, said that about eight years ago the school district reorganized classes and areas of study to bring a more comprehensive approach to the career and technical program.
Sebastian, a former executive chef, believes the culinary arts graduates — who in high school learn to manage a kitchen, plan events and manage projects — will be able to begin a job with some seniority and higher pay.   
Jocelyn Rosales, a 2021 graduate of the school's culinary arts program, is studying event planning at ACC. What she learned in high school helped her get through the first year of college. "The teachers (at Del Valle) helped me push through and follow my dreams. They convinced me to jump out of my little bubble. And I did," Rosales said. 
Other Del Valle culinary arts graduates have also gone to ACC and the University of Houston, said instructor Ashley Jenkins. Students in Houston can go on to earn a bachelor's degree in global hospitality leadership or a doctorate in hospitality administration. 
Lockhart High School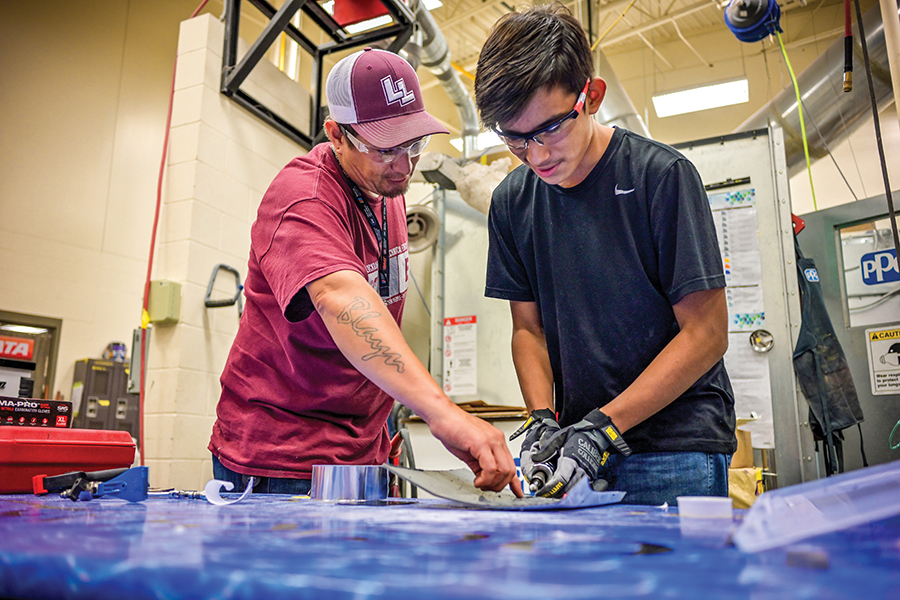 Traffic crashes happen. If a vehicle collision occurs in Lockhart in Caldwell County, it's possible that the person repairing the car or truck involved was a graduate of Lockhart High School's 12-year-old collision repair program.
Students who finish the four-year course of study can work in the repair field immediately or soon after graduation. First-year students start with the basics of collision repair, then move to repair work in their second year. Juniors study paint and refinishing, and seniors put that knowledge to work as interns at auto body shops in Lockhart. 
AJ Hernandez, the school's collision repair teacher since 2015, is proud of the program he has developed. "Students can go directly into the collision repair industry with the certifications they have earned. They can also go to tech school to get more knowledge and practice," he said. 
Program graduates receive Level 1 certification in professional body repair work, based on industry standard ratings. To advance in the field and reach higher levels, students typically continue their education at schools where collision repair courses are an area of focus, such as Universal Technical Institute in Houston or Austin, or at ACC.
Instructor Hernandez's son, junior Blayn Hernandez, is in his third year of the program. His goals beyond high school aren't focused on collision repair, though. Hernandez wants to enter the medical field and eventually become a surgeon. He takes other classes to further that goal, but why collision repair? "One of the things we do in collision is wrap cars or different objects" in a vinyl film that requires intricate cuts, he said. "Very intricate cuts are made in surgery as well."
In one recent class, third-level juniors learned to repair plastic bumpers, a skill requiring precision. Careful sanding is followed by melting new plastic at a high temperature, then seamlessly smoothing it into the sanded groove. The work is repeated on the bumper's flip side. 
Right now, all five seniors in the program work as interns at Caliber Collision in Lockhart. It is their practicum, the final level of training in high school.
"Not including our first-year basic class, we have about 70 students in collision repair and paint and refinish," Hernandez said. 
About 93% of Lockhart High's 1,969 students are in career and technical education courses. Students can choose from 16 focus options within the programs, including introductory courses in accounting and finance, as well as various certifications such as in emergency response.
Rachel Sotelo, the school's career and technical education coordinator, said those students "can graduate with an industry-based and recognized certification. They are able to walk right into their career or pursue post-secondary education." 
Giddings High School
Welding, agriculture sciences and business are among the most popular classes in the career coursework at rural Giddings High School in Lee County.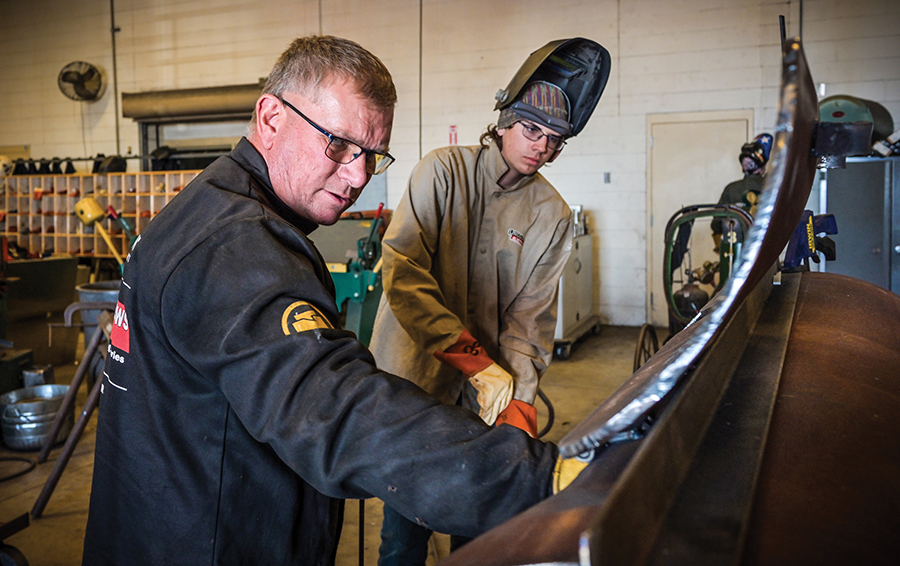 The 643-student high school has seven career and technical "clusters," according to interim principal Karla Sparks. Those groupings are business/marketing/finance, human services, STEM (science, technology, engineering and math), agricultural/food/natural resources, manufacturing, teaching/learning and cosmetology. 
Greg Morris, the school's welding teacher, says there are more jobs available in the welding field than there are students able to complete the rigorous four-year program.
Welding students are expected to work hard, consistently improve their skills and undertake projects for the community. The program requires a time commitment that some students aren't able to meet, Morris said. Students who complete the welding courses can earn certifications and more easily get a job after high school. 
Billy Roschetzky, a senior, plans to continue learning after high school. "I am going to Tulsa Welding School in Houston in July after I graduate," he said. "I'm not sure what I want to study specifically, but probably structural and fabrication," the art of building metal products from scratch. 
Roschetzky tried his hand at welding before taking the high school classes, but Morris' classroom is where he fell in love with the process. "I am surprised with how much technique it takes to be a good welder," he said.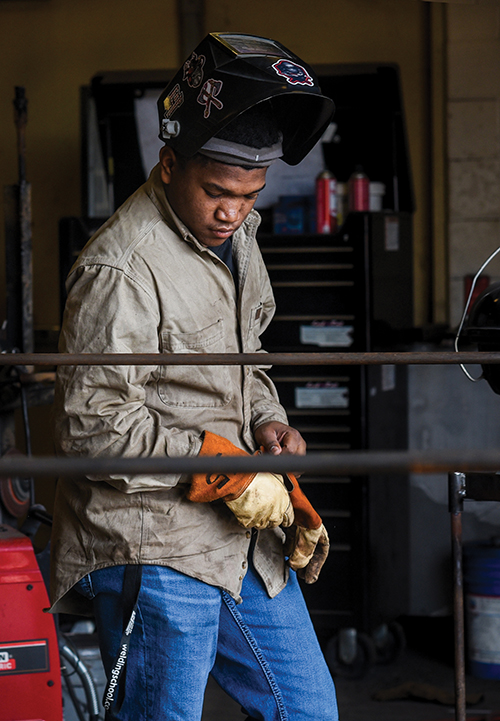 Morris is popular among his students. Taylor Wells, a junior who has been in welding classes for two years, said his teacher is the best part of the course: "He is patient and helps us learn what we need to know." Wells has Level 2 welding certifications and plans to continue in the field after graduation.
After finishing the welding program, many students such as Roschetzky go on to specialty schools to become pipefitters, fabricators, general welders or fill another of the many jobs in the trade. The American Welding Society says the nation will need an additional 375,000 welders to satisfy industry needs by the end of this year. The industry is growing, and older generations are leaving the field. Welders in Texas don't have to take prerequisite courses, but certification usually requires some training.
Brett Schneider graduated from Giddings in 2021 after taking all of Morris' courses and, with the teacher's encouragement, went on to Tulsa Welding School. Today he is a structural welder at Perry & Perry Builders in Rockdale in Milam County, where he helps build large industrial buildings and other commercial structures.
Brenham High School 
The students in Faith Gaskamp's anatomy and physiology class at Brenham High School in Washington County didn't seem too excited to start the day's project: dissecting a preserved sheep's brain. But even though they had the option to perform the lesson virtually, all of the students chose the hands-on experience.
The COVID-19 pandemic prompted more students at Brenham High School — and at schools nationwide — to focus on career- or technical-oriented coursework, said Gaskamp, who also teaches other health science classes. The high cost of attending college is a factor, but not the only one. "We have seen a return to the importance of trade-based programs," she said. "Trades are the backbone of our society and students want to become a part of this change."
The 1,500-student high school has six career paths. In the health science arena, students can obtain certification as medical assistants. Other certifications are for veterinary assistant, two levels of welding, floral "knowledge base" (focused on floral design), Microsoft Word and ServSafe food safety.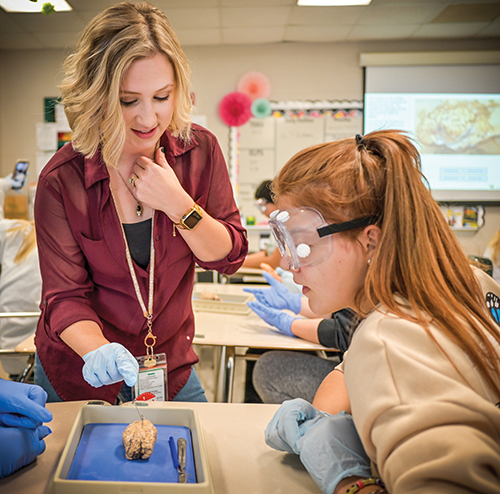 Classes for the health science track at Brenham are full, with 25 students in each, and they are expected to grow, because of student interest along with state requirements for career study coursework. 
With courses in anatomy and physiology, pathophysiology and medical terminology, students studying health sciences should be well-equipped to become medical assistants. They can also continue studying to earn other medical-related certifications or obtain degrees at two- or four-year colleges.
In Texas, there is a shortage of medical assistants. That creates more work for existing office staff and can affect the number of patients who can be treated, according to the Texas Medical Association. Medical assistant is the most difficult position to fill because certified medical assistants have many opportunities for higher paying jobs elsewhere, the medical society reported in December 2022.  
According to the Bureau of Labor Statistics, the number of certified medical assistants is projected to grow nationwide by 5% in the next eight years. 
"Most of the students in the health sciences pathway attend some type of schooling or additional certification program after graduation . . . specializing in a health pathway they are passionate about," Gaskamp said.
Cheyann Nugent, a junior on the health science track, said she enjoys "learning how the body works, especially the brain." She is getting plenty of hands-on experience at Brenham High. "We do a dissection or lab at the end of every unit. We are about to dissect a lamb's eye," she added. Nugent plans to receive her medical assistant certification when she graduates in May 2024. 
Somerville High School
Teachers in the agriculture program at Somerville High School in Burleson County pride themselves on offering practical educations and skills to students in this rural community. Programs include turf management, plant soil science, floral design, and fabrication, which includes welding and construction.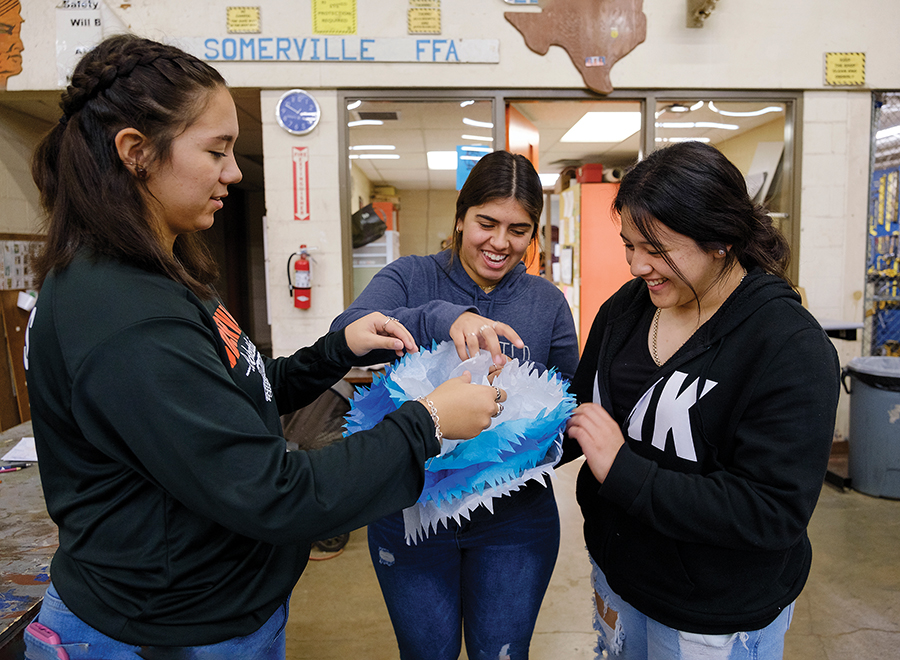 "We hope that when students leave our ag program they have a better knowledge of where their food comes from, how it is raised, harvested and processed for consumption," said Greg Moore, an agriculture teacher. 
Out of the 205 high school students at Somerville High, 85%, are enrolled in agriculture classes.
Agriculture is more than "cows, sows and plows," Moore said. It is also about science, genetics and learning how to meet the demand for livestock while the interest in raising it is waning. "The ag industry has changed so much in the last ten years with the increased use of drone, GPS and additional technologies. I stress the importance of studying science along with agriculture," he said. 
This might be one reason he has seen a big change in his classroom in the last few years: Young people who do not fit the mold of "traditional" agriculture-studies students are joining his classes.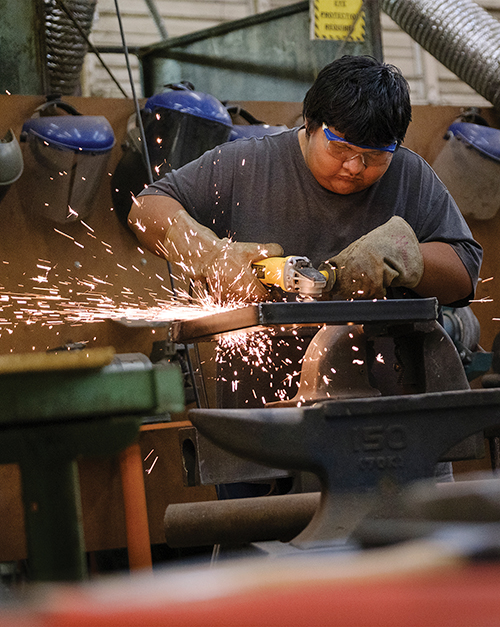 Nontraditional ag students are typically those who don't show animals or participate in the school's chapter of the Future Farmers of America. One of these students, Grace Casas, found herself in the agriculture program when she took the floral design class. However, she doesn't foresee a career creating artistic floral arrangements. Casas plans to study for certification as an ultrasound technician when she graduates in May.   
A student in the traditional ag student category, Natalie Shupak, has raised and shown pigs for the last few years. She has taken welding, landscape design and floral design classes and participates in FFA. But she wants to get a business degree and open a retail boutique when she graduates. 
Elsewhere, in turf management classes, a favorite class project is to create a "stadium in a box." Students grow their own grass, maintain it and create whatever type of sporting field they want in the boxes made from woodshop project scraps. Students have made baseball and soccer fields, and last year, one student made a food truck park.
While Moore and his welding and construction instructor colleague, Jonathan Meurin, encourage students to pursue their passions when considering education and careers, students often choose to stick with what they learn in class. Moore's strategy of pairing agriculture with science and teaching the connection between them allows students to consider nontraditional agriculture careers. 
The Bureau of Labor Statistics predicts 9% growth in jobs for technicians in agriculture and food science. Somerville students who want to follow the career paths taught in Moore and Meurin's classes must first take principles of food and natural resources. The teachers believe it is essential that students understand food sources and issues associated with that before they move ahead.
"Students have more awareness of where their food comes from and how it gets to the table. Because of this, our students are more aware of the opportunities that are available," Moore said. "The world we know today will not be the same tomorrow, and the agriculture industry has to grow and change to meet those needs in producing food, fiber and construction materials."
***
What trade careers make top pay?
The highest paid in-demand trade jobs are typically in the construction, health care, energy or engineering industries. The jobs are often specialized and many require significant training, certifications, licensing and, sometimes, experience. Annual salaries (nationwide) include:
Construction manager, $108,210
Nuclear technician, $99,340
Radiation therapist $82,790
Commercial driver, $82,010
Electrical line worker, $79,060
Dental hygienist, $77,810
Website developer, $77,200
Building inspector, $68,480
Respiratory therapist, $68,190
Power plant operator, $67,565
Other trade jobs that earn, on average, $60,000 or more annually include aircraft mechanic, real estate appraiser, electromechanical technician, elevator mechanic, industrial mechanic, electrician, plumber, boilermaker, construction inspector and landscape designer.
Health care trade jobs that are in demand and high on the list of annual pay include ultrasonographer, MRI technologist, surgical technician, occupational therapy assistant, physical therapy assistant and dental assistant.
Sources: Money.com (2022), equipmentandcontracting.com (2022), LinkedIn.com (2021) 
***
Keep on learning
TRADE AND TECHNICAL SCHOOLS, COLLEGES IN THE REGION 
Numerous programs, schools and specialized colleges in Central Texas offer training programs through which high school graduates can obtain certifications and degrees in many trade and technical fields. Among the largest that offer in-person, online or hybrid-learning options are:
TEXAS STATE TECHNICAL COLLEGE, with campuses in Waco, Austin and Hutto, has more than 40 programs and degrees in a variety of industries; in-person and online coursework; information online at 
tstc.edu/programs/ 
BLINN COLLEGE'S APPLIED TECHNOLOGY, WORKFORCE AND ECONOMIC DEVELOPMENT programs offer certifications, associate of applied science degrees, industry credentials and continuing education courses at multiple campuses, including in Brenham and Bryan. Blinn's A.W. Hodde, Jr. Technical Education Center in Brenham partners with local school districts and industries to offer training; information at blinn.edu/workforce/ and search on the site for the A.W. Hodde, Jr. Technical Education Center.
THE TEXAS A&M ENGINEERING EXTENSION SERVICE offers programs in fire and rescue, infrastructure and safety, law enforcement, economic and workforce development and homeland security; find a list of certificate programs and information at 
teex.org/certificate-programs/
AUSTIN COMMUNITY COLLEGE offers numerous programs ranging from computer science & IT, education and health sciences, as well as certifications in fields including welding, HVAC, plumbing; learn more online at continue.austincc.edu/career-and-technical
UNIVERSAL TECHNICAL INSTITUTE TRADE AND VOCATIONAL SCHOOL in Austin (with other campuses in Houston and Dallas/Fort Worth) has training in automotive, diesel, HVACR and welding industries; more online at uti.edu/locations/texas/austin
THE COLLEGE OF HEALTH CARE PROFESSIONS offers numerous programs in the health care field at multiple campuses in Texas, including Austin, San Antonio and Houston, as well as some online programs; information at chcp.edu
RESOURCES
THE TEXAS HIGHER EDUCATION COORDINATING BOARD reviews and approves career and applied technical degrees, and workforce certification programs at community, state and technical colleges; highered.texas.gov/our-work/equipping-our-workforce/ 
THE TEXAS WORKFORCE COMMISSION licenses career schools and colleges, provide resources and a list of all accredited schools and colleges; twc.texas.gov/jobseekers/career-schools-colleges-students