Going solar or already gone? The next hot sellers in Central Texas homes are battery storage systems, which can conserve that power for later use. 
By Alyssa Dussetschleger
It's been a long time coming, but home battery storage of solar-generated power has started showing up on the walls and garages of homes in the Bluebonnet Electric Cooperative service area.
Although battery technology has improved and prices have gone down in recent years, adding battery storage to your solar system is still pricey. The average cost of a 13-kilowatt hour (kWh) home battery plus its installation in Texas ranges from about $13,700 to $18,530, according to EnergySage, an online database of solar and battery installers that partners with the U.S Department of Energy. Those prices will probably drop by thousands of dollars in the next eight years, according to forecasts from the National Renewable Energy Laboratory. 
TAKE SMART STEPS TO CHARGE EV AT HOME »
BLUEBONNET AMONG FIRST TO TEST NEW TESLA DEVICE »
TOP FIVE OPTIONS ON THE HOME BATTERY MARKET »
LOOKING FOR A FORD LIGHTNING? »
Increasingly, homeowners in the Bluebonnet Electric Cooperative area, as well as in Texas and across the nation, are taking the leap into renewable energy. Storing excess energy generated by their solar arrays could save homeowners money and provide a backup source of power during an electric outage.
Solar power is one of the fastest-growing sources of electricity in the United States and has the potential to provide as much as 40% of the nation's power needs by 2035, according to a 2021 study by the U.S. Department of Energy. 
U.S. households with solar systems produced enough electricity in 2021 to power 23 million average homes for one hour, a whopping 126.1 gigawatts of power (a gigawatt is 1 billion watts). Texas has more than 160,000 residential and small commercial solar systems, second in the nation behind California, according to a spring 2022 study by the Solar Energy Industries Association, Wood Mackenzie Power & Renewables and The Solar Foundation. 
There were 2,558 home solar installations on the Bluebonnet system as of September 2022. At the end of August, Bluebonnet members (including large commercial members) with solar installations had the capacity to generate 26.58 megawatts of power (a megawatt is 1 million watts). That's enough to power 5,316 homes during periods of peak electricity demand. 
In 2021, Bluebonnet residential and commercial members with renewable power systems sent 8,940 megawatt hours of unconsumed power back to the grid. There are approximately 67 new solar systems, primarily residential, added to Bluebonnet's grid every month. 
Those are all great resources when the sun is shining, and power production peaks at midday. But households use the most electricity from 3 to 8 p.m. in the summer, when solar power production is waning. No sun means no electricity from a solar system.
Storing that power has been an elusive next step.
Residential battery storage systems connect to solar (or less-commonly, wind energy systems) to capture electricity that isn't used while it is being produced. The electricity stored in residential batteries can be used in the evening, during a power outage or when cloudy skies or still air prevails.   
Because battery storage system installations are not regulated by the state or federal government, official statistics are not available. A study by S&P Global Market Intelligence estimates an eight-fold increase in home battery installations since 2020. Bloomberg New Energy Finance, which conducts research on how industries can adapt to energy transitions, forecasted in 2019 that by 2024, battery installations will have increased 122% globally. 
In addition, the new federal Inflation Reduction Act, enacted in August of this year, increases federal tax credits for installation of solar and other renewable energy systems — including battery storage — beginning in 2023. The credit will equal 30% of the costs of eligible home improvements made during the year. Learn more about the Inflation Reduction Act at bit.ly/3QfvqQ1. 
"We are seeing a 24% (sales) rate for batteries (paired) with solar so far this year, up from 18% last year," said Sherren Harter, chief marketing officer at Freedom Solar. By late August, the Austin-based company had installed 68 combined solar and battery systems for Bluebonnet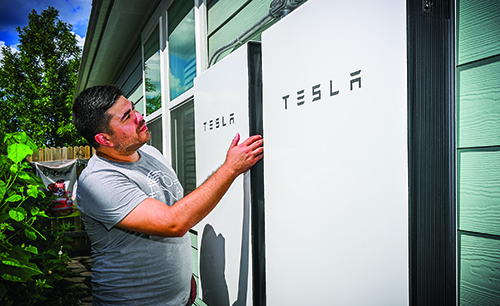 Amancio Gutierrez, a Bluebonnet member in southern Travis County, installed a full-home battery backup and rooftop solar system in 2020. His two Tesla Powerwalls can provide up to 18 hours of backup power for his home. 
Another Bluebonnet member, Aaron Contreras of eastern Travis County, added solar battery storage in 2020. "The icing on the cake for battery storage was being able to keep the lights on" during the winter storm of 2021, he said. "At the time I added battery storage I didn't consider that at all. I had been a Bluebonnet member for 11 years and only lost power one time for more than five minutes. But during the winter storm, I was able to keep the lights, heater and a few outlets on without interruption the entire time." 
Want to learn more? Here are a few questions and answers about battery storage systems.
How does battery storage work?
Electricity generated by solar or wind systems is direct current, or DC, which cannot be used in homes. That electricity flows through an inverter, turning it into alternating current, or AC, which can then power your home. Any excess electricity flows back through the system to the battery, where that power can be stored and used when needed. If the battery doesn't have enough power stored to meet your electricity demand, your home will use electricity from Bluebonnet's system.   
Without a battery, what happens to power my system generates that I don't use? 
Excess electricity you produce is returned to the grid and purchased from you by Bluebonnet. If you add battery storage to your system, that excess power first charges the battery before being returned to the grid. 
What is in these batteries?
Typical home battery storage systems use lithium-ion or lead-acid batteries. Lithium-ion batteries cost more, but have a longer life expectancy and come with more all-in-one, wall-mountable packages. Lead-acid batteries are less common and carry some safety risks.  
Are there different battery sizes? How do I know the size I need?
The average electric battery storage system for homes stores about 10 kilowatt-hours, or kWh, enough to run a clothes dryer for 2 to 5 hours. For an average home with solar panels in Central Texas, under sunny conditions and using no electricity, a solar system could recharge, for example, a 9.6 kWh battery from the LG Chem company in two hours.
Batteries range in size, from about the dimensions of a large flat-screen TV to a clothes dresser. The most compact, LG's Energy Solution home battery, is 36 inches tall, 29 inches wide and 8 inches deep. The Sonnen Eco 15, one of the largest home batteries, is 84 inches tall, 26 inches wide and 19 inches deep. 
The capacity size of the battery (measured in kWh) or number of batteries you need depends on how much electricity you want to store and how you plan to use it. Stored electricity can back up just part of your home, or it can provide full-home backup. An additional breaker box, with only breakers to the appliances that will be backed up by the battery storage, will need to be installed for a partial backup system. The time it takes to charge one or more batteries varies based on the size of your solar system and how much electricity you use from it while it is generating power.  
The most common items that residents back up are refrigerators, freezers, TVs and a few outlets, said Ray Schafer, a technical sales associate at Lighthouse Solar. Large appliances, such as HVAC systems and clothes dryers, often use too much power for a single battery. 
The more devices and appliances using power from your battery storage system, the less time you'll get power from it. A whole-home battery backup will exhaust its power storage faster than a partial one.
Gutierrez, the Bluebonnet member in southern Travis County, became interested in additional solar and battery storage at the start of the COVID-19 pandemic, when he was spending more time at home. He decided to get a full-home battery storage backup "in case of emergencies."
A professional installer can help you determine the size and number of batteries needed. Ideally the company will spend time helping you make the best decision for your needs with your renewable energy system. Battery installation education can be tricky, said Chris Lermann, owner of Affordable Solar, Roof & Air, a Tomball-based solar and battery storage installation company. "There are so many different loads you can utilize batteries for, so education is key," he said. 
You can also gauge the battery size you might need by using online calculators at pvwatts.nrel.gov.
Is there a wait for batteries? 
Since 2020, supply chain delays have impacted residential battery availability. Batteries from the company Enphase, for example, can take about 120 days to be delivered once a contract is signed. A Tesla Powerwall for solar energy can take from two months to a year to arrive, depending on the installer, location and available stock. 
Where can I get good advice about buying a battery storage system? 
Most solar installers also install battery storage systems. The brands of batteries installers sell and install will vary by their training and certification for the battery brand. 
For example, Sonnen, a popular battery manufacturer, requires licensed electricians to take and pass an online exam before selling or installing its batteries. Make sure your installer is registered with the Texas Department of Licensing and Regulation at tdlr.texas.gov. 
Micah Jasuta, a Texas Solar Energy Society member and past board chair, recommends that if you know someone who has had a battery installed, ask them about their experience. There are online tools to help, too. Energysage.com is a database to help consumers learn average system costs by battery size and model, and to find storage system installers in your area. Each company in that database has reviews from other buyers, along with services it provides, industry certifications, manufacturer partnerships and associated companies. The Texas Solar Energy Society also recommends reviewing battery storage installation companies with the Better Business Bureau or on online review sources. 
Jasuta advises getting at least three bids from licensed battery storage installers. "When people tell you something is free, be skeptical," he said. 
How much will it cost?
The average cost to purchase and install a residential solar system with battery storage can range from a little more than $19,840 to about $57,040, according to EnergySage. Prices vary greatly based on system sizes, quality and type of equipment installed. The average electric battery storage system in Texas costs $1,232 per kWh of storage. A 10 kWh system, which could power a typical home for 8 hours a day, costs about $12,400 in Texas. 
The new federal Inflation Reduction Act provides a 30% tax credit for the cost of installing solar (including battery storage), wind and other renewable home systems. The credit is available from 2022 through 2032, and then will decrease to 26% in 2033 and 22% in 2034. The credit will then expire. 
The tax credit can reduce the cost of a typical home energy-storage system by thousands of dollars, and the new law also offers tax credits and rebates for a variety of energy-efficient purchases, including electric vehicles and home improvements, according to a Kiplinger report. 
 
Where are the batteries and other pieces of equipment placed?  
Energy storage systems can only be installed in certain areas of your home, according to national fire protection regulations. Those areas include attached or detached garages, exterior walls or outdoors at least 3 feet from doors, windows, utility closets or storage/utility spaces. 
The systems are typically connected to the electric grid through your Bluebonnet meter and your home's electric panel. Licensed, professional electricians and battery storage installers can recommend the best location for your system, based on your wiring needs, but most batteries can be placed either in your home's garage or on an exterior wall.  
Some cities, including Austin, have ordinances prohibiting batteries from being installed inside your home. The city allows batteries in garages as long as there is a firewall between the garage and house, and there is a heat sensor. Many smoke detectors have heat-sensors.  
Bluebonnet member Contreras purchased a Tesla Powerwall in July 2020. He placed it inside his garage, although his solar system inverter and wiring were on an exterior wall. 
After a solar and battery storage installation is complete, a Bluebonnet service technician must ensure the installation meets safety requirements. Then a new meter will be installed to register how much solar power is returned to Bluebonnet's power lines. You'll sign an interconnection agreement, and then the systems can be turned on.  
Will battery storage help me save on my electric bill?
Yes, if you use stored power when renewable energy is not being produced. For a typical 10 kWh battery, if you used 100% of the stored energy when your solar system is not producing power, that would save about $35 a month. But, if you used only 70% of your stored energy in a home that uses the average 1,000 kWh of electricity a month, you would save about $24 a month. 
It will take much longer for your savings to cover the cost of your investment when compared to a solar-only system. The "break even" period for solar and battery storage systems is based on your out-of-pocket costs, and tax incentives and credits, along with savings on your electric bill. In 2020, the average payback period for a solar-power system was about 12 years, according to data from EnergySage. The online calculator at energysage.com/solar/calculator-results can estimate your savings and payback period based on an average installation cost in your area and financing options. Battery storage systems often have a longer payback period than solar panel systems, although the benefits of backup power may outweigh the financial impact.
Payback time on a battery system has many variables, and can range from 5 to 14 years, according to a 2021 EnergySage study.