Story by Kristin Finan
Photos by Sarah Beal
They are the pops of color that liven up Main Streets, historic buildings and city parks across the Bluebonnet Electric Cooperative serve area, which stretches across 3,800 square miles of Central Texas. Behind every bright mural that can be spotted in local cityscapes is a story. 

One eye-catching mural pays tribute to a town's juicy famous fruit, while another gives a nod to its community's industrial roots. New murals pop up with some regularity, while older, fading murals can show visitors a side of a city's past. Another plus: The larger-than-life murals are on public display all the time.

"The murals in downtown Brenham have become a destination for people in the surrounding area and beyond. They are available for viewing 24 hours a day, 365 days a year. From family photos to senior portraits and even car shows, the murals provide a colorful backdrop to capture a memory," said Jenny Van Dorf of the Texas Arts and Music Festival. "Each mural is unique to Brenham and tells a different story."

If you've been looking for some new spots to shoot a selfie or family portrait, or simply want to learn more about the region's bigger-than-life art scene, here are seven outdoor murals that can make for a perfect day trip stop.
"Giddings Pride"
GIDDINGS
Los Angeles-based artist Matt "Kiptoe" Dean painted the15-by-90-foot "Giddings Pride" tribute to the city on the wall ofOrsag's Furniture, 201 W. Austin St. Dime Box Distillery, which helped pay for the artwork, owns the empty lot facing the artwork. The mural, created in late October 2020 over a fiveday period, incorporates images relevant to Giddings history such as trains, oil derricks and buffalo.

"It had been many years since a mural had been painted (here), and we thought that one that depicted Giddings heritage would be a source of pride for residents as well as another reason for travelers to stop and stretch their legs," said Michael Leidel, Dime Box Distillery owner. "Since it was painted, we have seen people photograph quinceañeras, wedding parties, family portraits, classic cars and gleaming motorcycles in front of it."

The mural was paid for by the City of Giddings, the Giddings Economic Development Corporation and Dime Box Distillery. This was Kiptoe's first mural in Texas.

Watch some of Kiptoe's five days of mural painting »
"Owl Family"
BRENHAM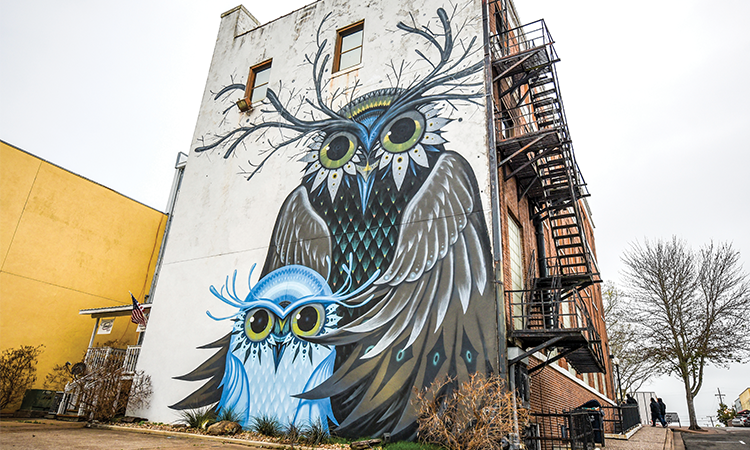 Jeepers, creepers, where'd you get those peepers? Animal enthusiasts and anyone who enjoys large-scale art won't want to miss downtown Brenham's brilliantly hued "Owl Family" mural, where huge-eyed, soulful creatures stare back at their inquisitive visitors. Created by renowned muralist Jeff Soto as part of the Texas Arts and Music Festival in Brenham in 2017, the mural stands four stories tall on the back of the historic JH Faske Building, 114 E. Alamo St., facing Commerce Street.
Many colorful murals featuring animals, Brenham-centric icons and other striking images adorn walls on Commerce and adjacent streets.

"We know this creates excitement downtown and has visitors returning to see what's new," said Jenny Van Dorf, a member of the arts festival board. "We have seen the vital importance over the last year of something that can be enjoyed 365 days a year. Even while folks were staying socially distanced, they were able to walk around downtown and take in the beautiful colors and murals."

The festival is about more than downtown art. "We provide funding for different programs that encourage and support students in their efforts to pursue art and music education," Van Dorf said.

The annual Texas Arts and Music Festival is Oct. 16-17 this year. It is free and open to the public. Get information about the festival at texasartsandmusicfestival.com, and look for information on the Art Walk on the visitbrenhamtexas.com website.

Watch Soto's three days of Brenham owl mural painting » 
"A Charm of Hummingbirds"
BASTROP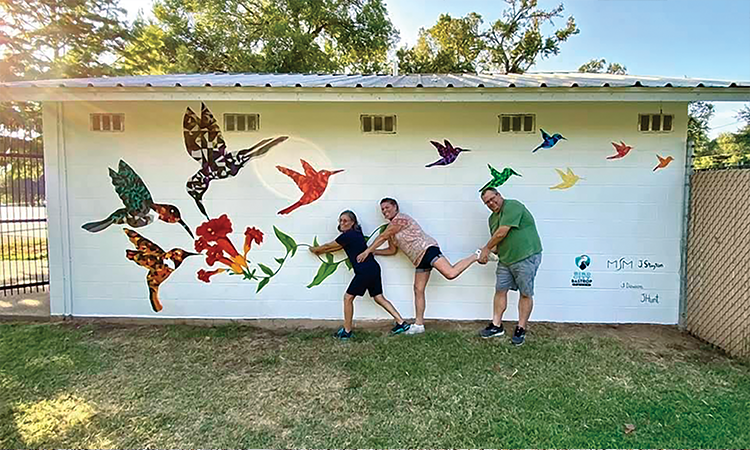 Send your heart aflutter at this mural, "A Charm of Hummingbirds," in Fisherman's Park, 1200 Willow St., in Bastrop. The mural commemorates the city's 2020 designation by the Texas Parks and Wildlife Department and Audubon Texas as one of four Bird City Texas-certified communities.

Nearly a dozen rainbow-hued hummingbirds fly across the mural that was created by artist Maria Montoya Stayton of Bastrop in partnership with artists Theresa Dawson of Red Rock and Jeffrey Stayton of Bastrop.

The 25-by-8½-foot mural was painted in August 2020, "the hottest month of the year during a pandemic," Montoya Stayton said. It features rubythroated, Rufous and black-chinned hummingbirds, which can be spotted in Bastrop. The mural was commissioned by the Bastrop County Audubon Society in celebration of the Bird City designation.

"During a time of pandemic, when one of the few things people could do was to walk or hike outside, this mural provided the community an opportunity to watch as it developed," Montoya Stayton said.

The artists selected an abstract composition that is "colorful, can be seen from far away, and blends in nicely with the environment. ... It is also interactive and allows people to hold the trumpet plant in the mural," she said. Don't miss the whimsical, animal-themed mural on the flip side of the building, either, painted by K.M. Fritz.

"An outdoor mural is intended to stay fresh amid the elements for many years," Montoya Stayton said. After preliminary treatment, she uses professional grade acrylic paint and varnish, then tops that with "sacrificial" varnish to guard against graffiti. "If the steps are not taken, murals will not last," she said.

Get more information about Fisherman's Park at visitbastrop.com (search for "Fisherman's Park") or about birdwatching in Bastrop (search for "birding in Bastrop.")
"Dive into the Divine"
SAN MARCOS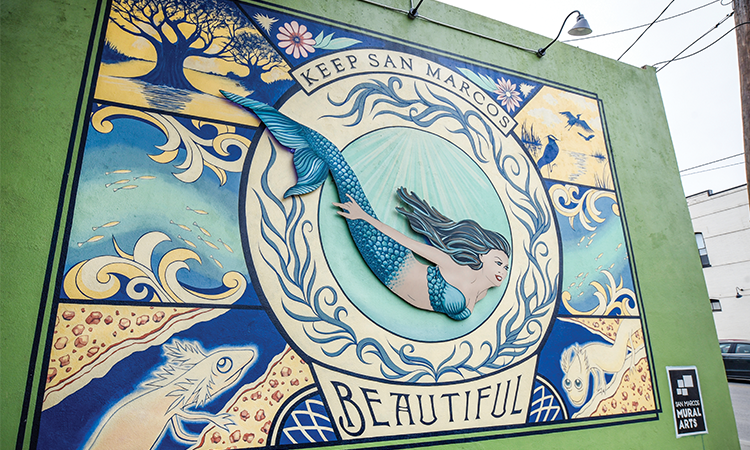 Thanks in part to more than 200 springs at the headwaters of the San Marcos River — and mostly to the Aquarena Springs theme park that operated there from 1951 to 1994 — mermaids may be the most beloved mascots in this bustling college city.

For several decades, the Aquamaids donned fancy swimwear and even mermaid tails to perform graceful underwater shows for tourists who filled the park's glass-bottom boats.

If you want to snap a picture with a mermaid, stop by the Root Cellar Catering Co., 202 E. Hopkins St., where the vibrant "Dive into the Divine" mural by artist Morgan Haberle Egan of San Marcos and fine art and sign painter Jana Swec of Austin reminds passersby to "Keep San Marcos Beautiful."

The 19-by-14-foot mural was completed in 2016 as part of the City of San Marcos Mural Arts Program, paid for by hotel occupancy tax collections. The program provides artists with grants and design assistance to paint murals on private property throughout the city. "Murals can enliven an otherwise drab alley or parking lot and add to the character and sense of place in a community, and can also beautify an area by covering and preventing graffiti," the program's website states.

Other can't-miss art sightings in San Marcos include the vibrant underwater scenes by San Marcos artist Mabel Sirup in Children's Park, also a project of the mural arts program, and the Mermaid March, a public art project from the San Marcos Arts Commission that showcases 10 mermaid sculptures, each 7 feet tall, around town.

At Spring Lake, where the mermaids swam, the Meadows Center for Water and the Environment has been conducting research since 2012. Visitors to that Texas State University facility can still see the pristine waters from glass-bottom boats.

Get information and make reservations at meadowscenter.txstate.edu.

See more of San Marcos' art by going to the Art Map on the sanmarcostx.gov website. 
"Quilts … History in the Making"
LA GRANGE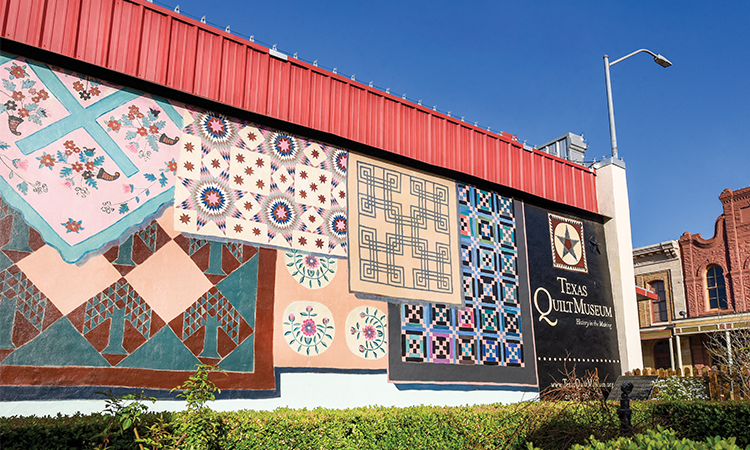 This intricately detailed 13-by-85-foot outdoor mural depicts 15 traditional 19th century quilts. It was designed by Austin artist Duana Gill and painted in 2011 by muralist Brent McCarthy, who lives in the Hill Country. The mural's centerpiece is the museum's emblem quilt — a red, white and blue Founders Star.

"The mural was one of the best things we did," museum manager Julie Maffei said. "It's a wonderful complement to our one-of-a-kind period garden."

The colorful garden was patterned after a typical "city garden" in a Central Texas town in the 1890s, when the museum's buildings were erected. It is called the "Grandmother's Flower Garden" in tribute to a Depression-era quilt pattern that is still beloved today. Each year the quilt mural is touched up by McCarthy to eliminate stains and fading, Maffei said.

Get more information at texasquiltmuseum.org.
"Welcome to Luling"
LULING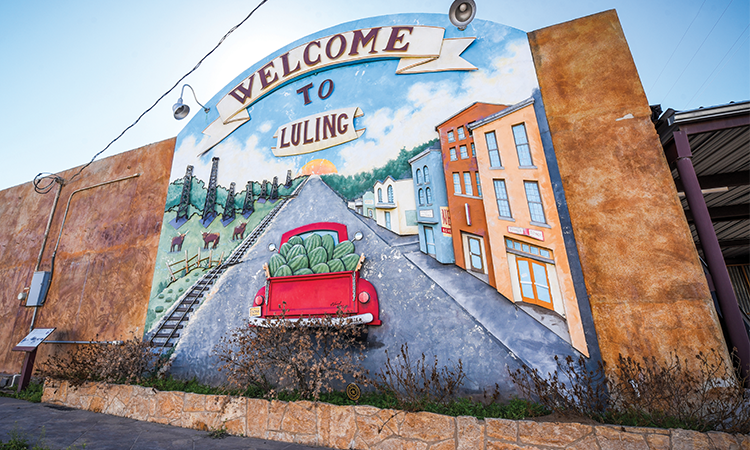 The 19-by-18-foot mural was created in 2011 by Luling artist Joshua Farrell. It was commissioned by Luling Main Street, an organization of local business owners committed to revitalizing the Main Street District.

You can time your visit to Luling with the Watermelon Thump, always the last full weekend of every June since 1954. Or, you may simply revel in a relaxed day trip or weekend escape that, in addition to mural sightings, may include antiquing, shopping boutiques, enjoying barbecue or sampling produce, including watermelon, at the Farmers Market at 700-798 FM 1322.

Look closely at the mural to get some hints at Luling's heritage: Learn more at lulingmainstreet.com/projects.php.
"Welcome to Smithville, Train 286"
SMITHVILLE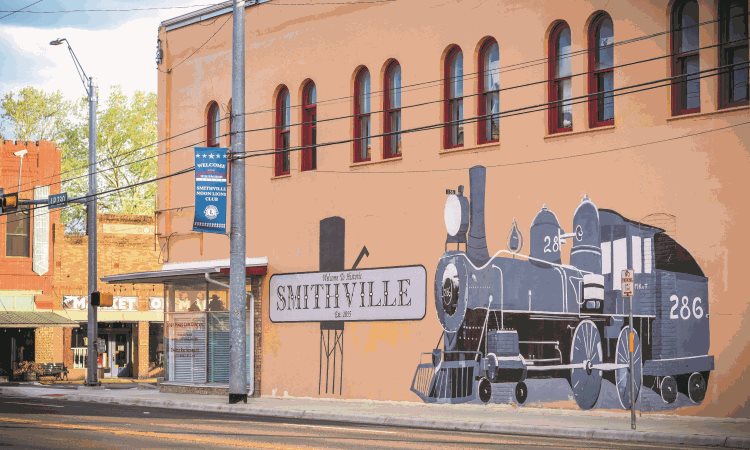 Smithville, known for its railroad history, offers a mural of a barreling train to welcome visitors to town. The ''Welcome to Smithville, Train 286' mural, 217 Main St. at Loop 230, was painted in 1976 by a local Presbyterian minister. The train art is painted on the side of a building that used to be the Bayer Pharmacy and now houses a law firm.

Smithville works to prioritize the arts, from nearly a dozen stages and venues for live music and theatrical productions to three art galleries. The city recently opened the new home for the James H. Long Railroad Park and Museum, at 106 N.E. First St. The building also houses the city visitor center and chamber of commerce.

There are other photo-worthy murals in town, including the rainbow-adorned sprawling piece on an exterior wall of Smithville Elementary School at Bishop and N.E. Seventh streets. That mural was featured in the 1998 Sandra Bullock film, "Hope Floats."

Get more information about the city's murals »

Download this story as it appeared in the Texas Co-op Power magazine »