Vegetation removal
Keeping rights-of-way clear of trees and vegetation keeps everyone safe and reduces power outages.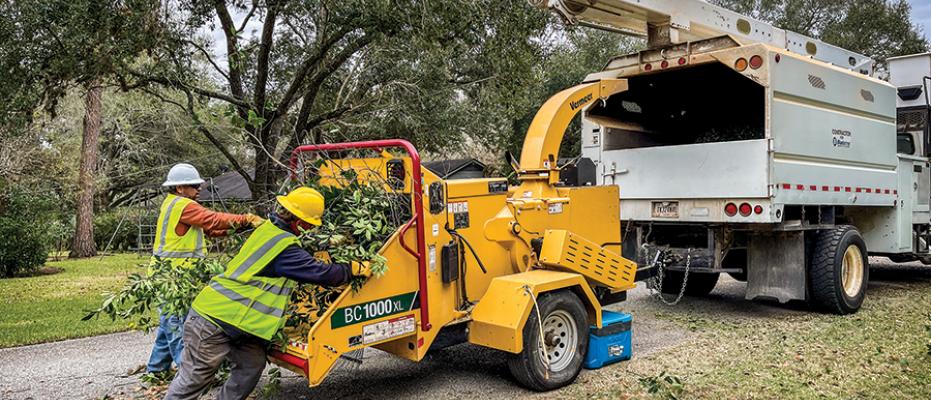 For a service request on your account, please log in to submit the request. This will save you the time of entering your account, meter number and other information. Service requests are not for emergencies. In an emergency, call 911, or contact 800-949-4414 to report an outage.
Need more help?
Bluebonnet will trim the trees back 15 feet on each side from the center of a pole. If you suspect a hazardous situation is present due to trees or branches in close proximity to power lines, please contact us at 800-842-7708. We prioritize and schedule work based on the severity of the situation. Submit a request online (above), through your online account, the MyBluebonnet mobile app or by calling 800-842-7708, Monday through Friday, 8 a.m. to 5 p.m. 
An ideal right-of-way for electric lines is 15 feet from each side of the electric equipment. Members can request Bluebonnet trim any tree growth or limbs within the safety boundary of 15 feet. Members will be responsible for maintaining vegetation outside of the safety boundary. If you (or a private contractor) are performing any work around your power lines, please contact us to request the line be de-energized, before completing any tree work.
 
No, Bluebonnet does not require your signature, but will verify two forms of identification (social, driver's license or date of birth) in a member service office or by phone at 800-842-7708 to remove trees. 
There are no fees associated with maintenance requests. Bluebonnet's priority is to provide safe and reliable service to our members. 
Bluebonnet's employees or contractors visit property owners in advance of doing right-of-way maintenance.
If no one is home, they leave a gate or door hanger detailing the service work to be done, when it will be done and a number to call with questions.
Right-of-way and easement agreements allow Bluebonnet to access private property in order to maintain our electric distribution system. This work helps us access power lines for maintenance and repairs, but it also helps us improve the reliability of your electric service.
We can't prevent bad weather, but we can reduce outages caused by falling limbs and trees. Our team works year-round to maintain the right-of-way. How much they trim depends on your tree. Additionally, Bluebonnet hires qualified, independent contractors to apply herbicide mixtures to our right-of-way to prevent regrowth after trees are removed. These efforts allow us to maintain our electric service reliability.
Before you begin any digging project, call 811 to have underground utilities marked for free.
Don't plant shrubs or hedges at the base of power poles. It makes it harder for our crews to work on power lines if you have an outage.
If you live in a newer neighborhood that has underground power lines, when planting trees or shrubs, maintain 10 feet of clearance from the front of the transformer and three feet on all other sides to allow Bluebonnet line workers' access. Maintaining a distance also keeps roots from interfering with underground lines running to the transformer.
Never plant trees directly under power lines. Short trees should be planted at least 25 feet away from power lines, while medium-sized trees should be planted at least 40 feet away from power lines. Keep in mind: Branches near power lines can be extremely dangerous.
If your yard has trees or branches growing into the power lines, please do not attempt to trim them yourself. Submit a tree trimming request online at bluebonnet.coop, through your online MyBluebonnet account, our mobile app or call 800-842-7708, Monday through Friday, 8 a.m. to 5 p.m.