February ice storm
Due to the extent of damage caused by the recent ice storm, crews worked day and night to restore power outages. Read the latest update and FAQ
Get updates on conditions on Facebook or Twitter
Stay winter ready!
Winter weather is unpredictable, and even more so in Texas. It is important that if you are at home, on the road, or in a public place, you are prepared for whatever happens. 
If you must travel, be safe and check current road conditions
Stock up on batteries and flashlights. Make sure you have a flashlight in your car, on your keychain or in your purse and plenty at home. Along with that, make sure you have enough batteries for those flashlights for them to run for a few hours.
Make sure you have at least one gallon of water per person and per pet for 7 days in your home.
Locate your local water shut off valve, just in case you need to turn off the water to your home.
Cover outdoor faucets before temperatures drop to freezing or below. As temperatures drop, let faucets drip overnight and open cabinet doors below sinks to allow heat to the pipes.
If you don't know your neighbors yet, get to know them. Having community to check in on each other will make sure everyone is safe and ensures everyone is getting help if they need it.
Ways to save
As Central Texas experiences cooler temperatures, many of us native Texas aren't sure what to do to stay warm and save electricity doing it. 
Start with quick, simple changes, and work your way up to the larger investments that can make a significant difference in your power use in the long-term.
Open blinds, curtains and shades strategically. When the sun is shining in your home, it will heat it up naturally.
Cook with countertop appliances like a crock pot, InstantPot or toaster oven. These things take less electricity to heat up and use.
Lower the temperature on your water heater. Often water heaters are set to 140 degrees, but 120 degrees is recommended by energy.gov.
Vacuum your air conditioner grates. You already know to change your filter, but vacuuming off the grates will also help with airflow.
Replace air filters throughout your home. This needs to be done every month, per energy.gov.
Add insulation around electric wall plugs and wall switches with foam pads. If you have an attic, make sure your attic door is insulated. While you're up here, consider beefing up or replacing old attic insulation and you could save up to 15% on your electric bill.
Deal with drafty windows and doors. Do you have a pet that has scratched the weatherstripping on your door? You can easily replace that yourself and save some on your electricity bill in the log run.
Slowly lower your comfortable air temperature. It is recommended that you lower your temperature one to two degrees every few days. Before you know it, you'll be down to 68 or lower!
Use space heaters (safely) in rooms that you want warmer. Think bathrooms after a shower, or an office you use during the day. This will allow you to keep your thermostat lower, but warm just the areas you use often.
Replacing your HVAC or putting in an HVAC system is a great way to ensure your system is energy efficient. 
Buying new appliances for the holidays? Look for Energy Star appliances that will save you on your bill.
Manage your electricity use and cost
Analyze your electricity use with three handy tools online at bluebonnet.coop (log in to your account and look under the My Usage tab), or on the MyBluebonnet mobile app (click the Usage tab).
MyBluebonnet account tools
Get a detailed look at your past and current energy use, all in one place. View your electricity use and temperature trends by the month, day or hour. Check out the Usage Explorer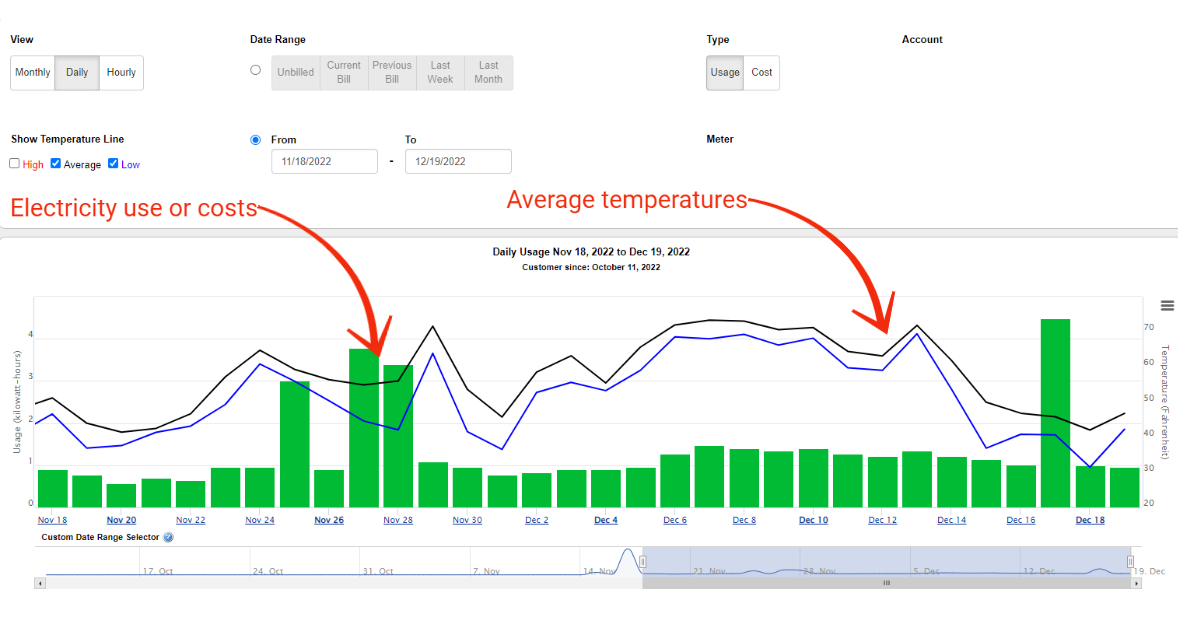 Compare past monthly bills side by side and determine if new energy-saving habits are making a difference. Compare your usage

Winter weather and outages FAQs
Bluebonnet Electric Cooperative prepares for winter storms days in advance by curtailing normal operations in order to give crews time to stock our vehicles with fuel and equipment needed to restore power, and be well rested when the front moves through our area. Our control center operators and crews are ready and prepared to respond around the clock to weather-related outages and restore power as quickly and safely as possible to ensure the comfort and safety of our members. 
Stay away from electric equipment that could be damaged. Never touch a fallen power line, and assume all wires on the ground are electrically charged and stay away. If the situation is an emergency, call 911. Then report the downed line to our automated outage line, 800-949-4414, select option 2.
During a power outage in extremely cold weather, the demand for electricity is very high and our crews and control center operators must restore power more slowly and incrementally. Suddenly restarting lots of electric heaters and other appliances can cause an immediate surge in electric demand and lead to another outage. Please turn off all electric devices, including your heater, and only keep a few lights on if your power goes out, so you know when your power restored.
Drip outside faucets 24 hours a day at a rate of 5 drops per minute to avoid pipe freezes. This is not necessary unless temperatures are expected to be 28 degrees or below for at least 4 hours.  
Keep your freezer and refrigerator doors shut Each time you open the door, cold air escapes. Food will stay frozen between 36 and 48 hours in a full refrigerator freezer and up to 24 hours if the freezer is half-full. To keep food safe for a prolonged period of time, store in a cooler with ice at a temperature of at least 40 degrees. Different foods thaw at different rates: When in doubt, throw it out.  
Unopened food will stay cold for only about 4 hours in the refrigerated portion of your appliance. If you are cooking food, do not use the outdoor grill or a charcoal fueled barbecue inside your house, as they can feed carbon monoxide into the house. For more recommendations, visit Centers for Disease Control and Prevention
State officials, including ERCOT, have stated there should be sufficient electric generation to meet consumer demand during this week's cold temperatures and do not anticipate the need to order rotating outages. However, no one can guarantee there won't be rotating outages. Bluebonnet will monitor electric grid conditions throughout the week and be ready to respond if and when necessary. 
Though Bluebonnet Electric Cooperative does not anticipate the need for ERCOT-ordered rotating outages, we will continuously monitor electric grid conditions. If conditions change and ERCOT orders rotating outages, we we will share information from the Public Utility Commission and ERCOT with our members via our website, on our Facebook and Twitter pages as well as our automated phone lines.