All across the Bluebonnet service area are remarkable examples of partnerships with our best friends
Stories by Clayton Stromberger -- Photos by Sarah Beal
Many millennia ago, somewhere in Asia, a gray wolf — hungry, curious, wary — cautiously inched its way toward a human campfire. Eye contact was made, perhaps a scrap of food was tossed over. In an ancient world where survival was elemental, a new partnership was forged.
Ever since that moment, our two species have been intertwined in a complex evolutionary dance, seeking a mutually beneficial relationship. When humans first came to this part of the world, dogs came with them.
We all know the dog's status today as humankind's best friend. We have closer connections with canines than any other species on the planet. It only makes sense that they have evolved into work partners. But what kind of co-workers do they make?
Pretty great ones, say the owners and handlers of the working dogs of the Bluebonnet Electric Cooperative service area. "These working dogs are amazing," says Giddings Police Officer Jack Nickell, whose canine partner Bery, can detect drugs. "I learn something new every day."
All across the Bluebonnet service area are remarkable examples of these unique partnerships. In these pages, we take a look at the many ways amazing canines contribute to the quality of life in our area and share stories from their human partners.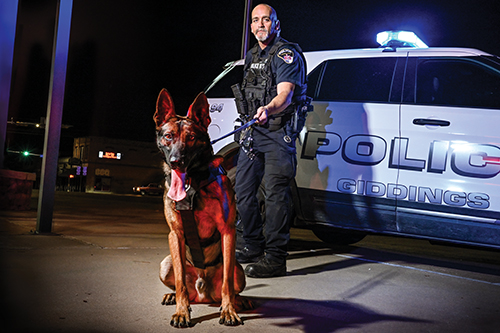 DRUG DETECTION DOG, Bery
Lee County
Bery means business. Like many trained police dogs, the 2½-year-old Belgian Malinois is driven and focused while on the job, to the point of being a bit impatient with his partner.
"When we're training, if Bery alerts on something and I don't reward him quickly enough, he'll look back at me and smack the vehicle with his paw," says Giddings Police Officer Jack Nickell, the dog's handler and owner. Bery and Nickell, at right, have been a dynamic duo on the drug-detection beat in Giddings since March 2022. Bery had 160 hours of training, and his nose has led to several arrests.
Nickell bought Bery with his own money while working in 2021 for a different police department that didn't have funding for a K-9 patrol.
"I like getting narcotics off the street, and I love dogs," Nickell says, "so K-9 work is something I've always wanted to get into."
CATTLE-HERDING DOGS
Bastrop County
The dogs whirl and wheel around the herd of cattle, barking and closing their circle, working in close tandem with two men on horseback. The object is to move these recalcitrant cattle from the pasture into their pen.
This team of black-mouth curs, most of them siblings, will keep a tight rein on these cattle until the job is done. They belong to one of the riders, Thres Jarosek, 20, who was given the dogs by family friend and Smithville resident Troy Tiner, who helped raise Jarosek after the young man's father died. Jarosek and Tiner still work cattle together, as they have for most of Jarosek's life.
"I grew up with these dogs' grandpas, and great-grandpas," says Jarosek, who was helping herd on horseback when he was just 4.
Jarosek and his dogs live near Smithville and travel around Bastrop County and outlying areas, herding cattle that decide not to budge.
"It's pretty cool," Jarosek says of his day job. "There aren't many people around that still own cowdogs and have the skills to pen even the wildest of cattle."
Rugged and resilient, the black-mouth cur (shown herding, above) has long been valued in the southern United States as a tireless herding dog, a courageous hunter of hogs and other wild game, and a loyal and trusty companion back at the homestead.
The title character of "Old Yeller," the classic 1956 children's novel by Texan Fred Gipson, is thought by many to have been based on a black-mouth cur — despite any breed confusion caused by the Disney  film version, where Old Yeller was played by a Labrador retriever.
Jarosek, who works with these dogs as cattle wranglers, is a fan of the breed. "These dogs," he says, "are more valuable to us than having 10 cowboys behind the herd trying to control them."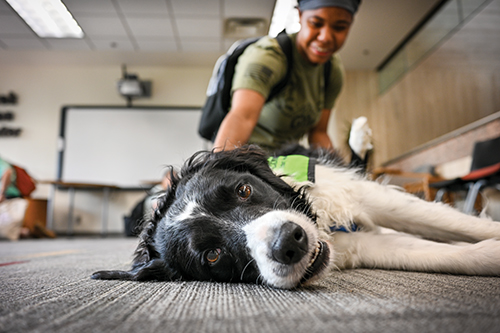 THERAPY DOG, Griswold
Hays County
It's finals week at Texas State University in San Marcos, and everyone's feeling the stress — which makes the appearance of therapy dogs on two floors of the busy Alkek Library especially welcome.
Dog-owner teams from Divine Canines, an Austin-based nonprofit, have been visiting the Texas State campus during finals week since spring 2013. Students line up to take a 15-minute break to chill out and pet dogs such as Griswold, at right.
The Brittany spaniel-border collie mix is hard at work in a characteristically blissful sprawl on the library floor.
"I hear so many students say, 'Oh, you don't know how much I needed this today,' " says Michele Evans, Griswold's owner. The pair have been working together for five years.
"Studies show that just having a dog and having that interaction helps lower blood pressure and calm people's nerves," Evans says.
Being friendy isn't enough to get this job: After six weeks of training the dogs must pass the American Kennel Club's Canine Good Citizen test before helping soothe folks in Hays, Travis and Williamson counties.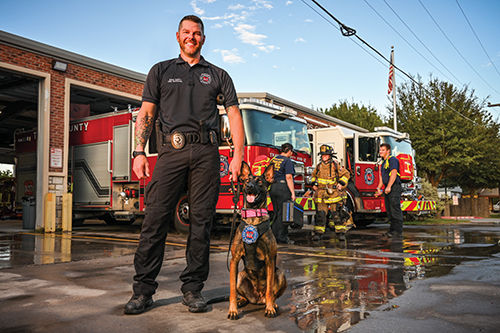 ACCELERANT DETECTION DOG, Ember
Travis County
For centuries, the Dalmatian was considered the classic firehouse dog ­­­­­— a tradition that began in New York City in the 1870s, when the gifted runners would trot ahead of the horses pulling the fire carriage and help clear the street of pedestrians.
Today, there's a new type of job description for four-legged helpers in firehouses: accelerant detection K-9. At Travis County Emergency Services District No. 12 in Manor, Ember ­­­­­— a 1½-year-old Belgian Malinois ­­­­­— rides on every call with Fire Chief Ryan Smith, at left, and is ready to sniff her way through the ashes of a burned-out house or car to determine if an accelerant was used to start the fire.
"She's an amazing addition to our toolkit," Smith says. "These dogs can find one-thousandth of a teaspoon of an accelerant in a 100-by-100-foot field in 5 seconds." Ember's arrival in fall of 2022 was thanks to a grant from K9s4COPs, a College Station-based nonprofit. She was trained at Pacesetter K9 in Liberty Hill, where she learned to detect traces of 14 different accelerants used to deliberately start fires.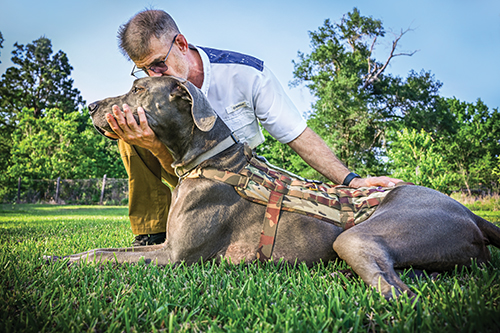 PTSD SERVICE DOG, Patton
Washington County
Life is better for Robert Kilpatrick since General George S. Patton arrived on the scene. Patton, a 5-year-old Great Dane, is Kilpatrick's post-traumatic stress disorder — or PTSD — service dog. Kilpatrick served his country on nine tours of duty in the U.S. Army, from Operation Desert Storm in Kuwait through missions in Iraq.
The memories of what he saw and experienced are like a "Pandora's box," he says, which he attempts to keep shut. But a loud noise, a sudden movement or an overcrowded store can bring back the trauma of combat. That's when Patton steps in.
"If Robert's had a bad day," says his wife, Amy, "Patton will come up and Robert will start rubbing and petting Patton, and you can see everything melt away."
Patton is trained to serve as a buffer between his owner and crowds and to lead Kilpatrick away from stressful settings.
The dog was trained by a family friend who specializes in training Great Danes to be veterans' PTSD dogs. Patton has been with the couple for five years. With Patton by his side, Kilpatrick can more easily go shopping and speak to strangers in public.
"He mellows me out," the Brenham resident says. Patton's vest is made from one of Kilpatrick's uniforms.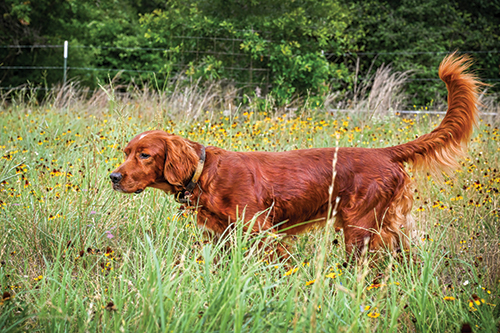 FIELD CHAMPION SETTER, Melt'n
Lee County
Sometimes a dog just has a gift. Melt'n, at right, a 7-year-old American Kennel Club field champion Irish setter, was sent as a youngster with two siblings to a professional agility-competition trainer in North Dakota, and came out "head of the class," says his owner, Bill Rhodes of Lee County.
"He completed his training three months early. The trainer sent him back and said, 'He knows everything I can teach him, so just run him now.' " Setters are named for their instinct for finding birds by scent and then "set" in a statue-like position to indicate the bird's location. "Bird dogs want to please you," Rhodes says.
In field competitions, the dogs are judged on how well they perform in a simulated bird hunt, guided at key points by their owner. Rhodes is a fan of Irish setters and calls his property "Setter Downs" — part of Melt'n's official AKC competition name: Field Champion Setter Downs Hot Stuff.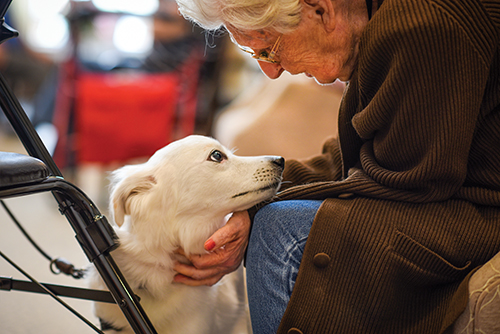 SENIOR LIVING FACILITY THERAPY DOG, Skye
Washington County
When Skye and her owner, Liane Pomfret, walk through the doors of Silversage Assisted Living and Memory Care in Brenham, faces light up and hands reach out.
Skye — a 9-year-old rescued terrier spaniel mix — has a knack for connecting with people. She often reminds Silversage residents of their own beloved pets from long ago. As the years fall away, a conversation begins and happy memories are shared.
"It's a very strong emotional reaction sometimes," Pomfret says. "I've had Alzheimer's patients speak when they haven't talked in weeks." Pomfret and Skye — who live in Burton in Washington County — are part of Pets With a Mission, a nonprofit based in The Woodlands township north of Houston. The two also visit Brenham Nursing and Rehabilitation Center, as well as area schools and libraries. The duo have worked as a volunteer team for six years.
The key to a great human-canine team starts with the owner, Pomfret says. "If the human is making sure that the dog is happy and comfortable, that's when things work.  That's when the magic happens."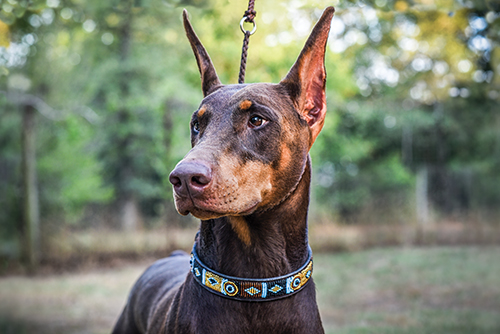 CHAMPION SHOW DOG, JLo
Bastrop County
Herr Dobermann, the tax collector for Apolda, Germany, had a problem. When making his rounds back in the 1880s, scofflaws often greeted him not with payment but with a pummeling.
Fortunately, Louis Dobermann also ran the Apolda dog pound. So he decided to breed the perfect personal protection dog. The result was a canine that was alert, smart, fiercely loyal, and both tough and nimble — and eventually the breed came to be named after him. The American version is known as the Doberman pinscher.
Professional dog handler Aslynn Rose of Cedar Creek has long loved Dobermans, and currently owns five of them, including JLo, who is named for the singer. Rose shows her own dogs when she can and JLo — whose registered AKC name is Champion Whiskey Mac's Lush Life — has appeared at many American Kennel Club show competitions and earned a breed championship.
"They're unlike any other breed," Rose says.  "In my opinion, they're the best breed out there — they're loyal, they're intuitive, they're loving and they're totally committed to you."
One heads-up: They're not outside dogs and will always want to be at your side. "You'll never go to the bathroom alone again," Rose says.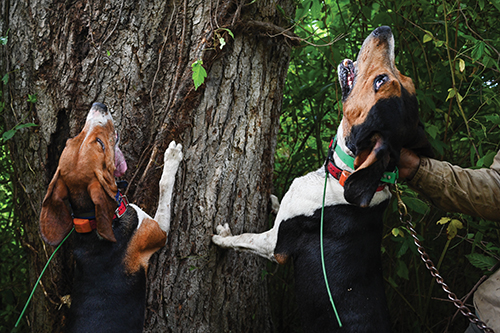 TREEING HOUNDS, Annie (right) and Slick
Burleson County
When English settlers arrived in Virginia in the Colonial era, they encountered a new animal to hunt for its fur and meat — the raccoon, native only to North America. The settlers imported foxhounds, which excelled at giving chase, but they would lose raccoons once the animals shimmied high up a tree.
Careful breeding eventually led to the treeing Walker hound, first recognized as an official breed by the American Kennel Club in 2012. The hound is known for its ability to "tree" a raccoon and keep it there. Treeing raccoons with dogs has a long history in Burleson County, where Robert Campbell and his dog, Slick (above, left) and fellow Walker hound Annie, can be found keeping the tradition going most weekends on rural family land near Caldwell.
Today, competitive raccoon hunting is for sport, not income or food. The animals are treed and then left alone, or caught and released. The key to a winning Walker? Good bloodlines and practice, Campbell says. "You've got to put in time in the woods."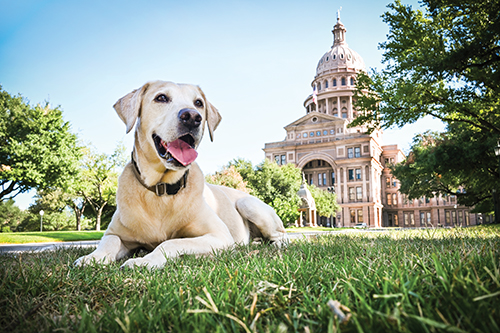 IRS EXPLOSIVE-DETECTION DOG, Cane
Travis County
Cane, a 7-year-old yellow Labrador, is the first line of defense for Internal Revenue Service employees at the Austin tax-return processing office in south Austin. Under the guidance of handler David Newell, an Air Force veteran, former Taylor police officer and Bluebonnet Electric Cooperative member, Cane gives a good sniffing-over to every package that is mailed, shipped or delivered to the IRS facility.
The Lab is trained to detect the odors of as many as 20 different ingredients used to make explosives — a feat that neither humans nor machines can replicate.
"When you walk into a hamburger place, you smell a burger," explains Newell. "But a dog can smell the meat, the ketchup, the bread, the yeast, the sugar, the lettuce — they can break it down into every ingredient."
Cane, at right, and Newell also spend time in Washington, D.C., where they help keep other federal facilities safe from explosives.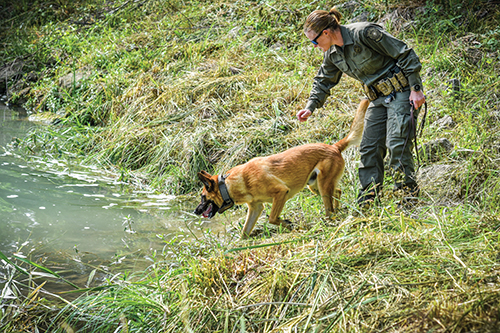 HUMAN-REMAINS DETECTION DOG, Dexter
Caldwell County
Texas Game Warden Kryssie Thompson knows the work she does with her partner Dexter — a 7-year-old German shepherd mix — is sensitive and extremely important.
"When I thought about whether to take this job," Thompson recalls, "I put myself in the position of the family of a missing person. If every asset has been utilized and your loved one is still missing, surely there's got to be a last line of defense."
Dexter is one of two human-remains detection dogs brought on by the Texas Parks and Wildlife Department five years ago. They are considered full-time "game warden K-9s."
Thompson and Dexter were originally based out of Bastrop but recently moved to Huntsville, and they can be called upon for searches across the Bluebonnet service area. At left, they practice a training scenario along the San Marcos River.
When someone goes missing on water or in the woods, and officials suspect that person is deceased, Dexter's finely calibrated nose can detect odors, sometimes months, or even years, after a death.
He can even indicate the location of victims in water from a boat, often in areas where divers or searchers face limited visibility.
It's difficult work, but the relief families feel when a lost loved one is finally recovered is often palpable, Thompson says. One family was so touched by their work they sent the duo a thank-you note.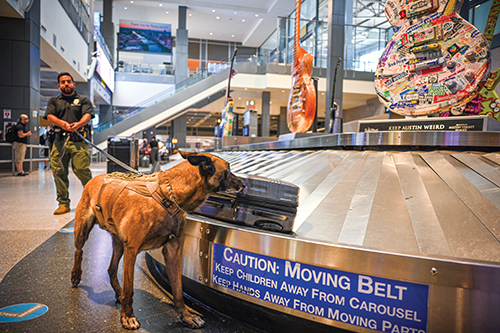 AIRPORT EXPLOSIVE DETECTION DOG, Kan
Travis County
Each workday morning, when Austin police officer Estanislao Rodriguez begins putting on his uniform, his trusty partner, Kan, can't contain his excitement.
"He goes nuts and starts running circles in the backyard," Rodriguez says. "He knows we're going to have fun, because work for him is just play."
Kan, an 8-year-old Belgian Malinois, was born in Germany, then trained in explosives detection at Lackland Air Force Base in San Antonio by the U.S. Department of Homeland Security. Kan and Rodriguez are one of four K-9 teams used by Austin's police department to screen luggage and packages at Austin-Bergstrom International Airport.
The presence of the K-9 patrols at the airport, a familiar sight to many travelers from the Bluebonnet area, is a strong deterrent, Rodriguez says. So far, fortunately, Kan, at right, has not detected any explosives while on the job. The dog is retiring this spring at age 9 and will kick back as part of the Rodriguez family.
"You build such a great bond with these dogs,"
Rodriguez says. Kan's final assignment is an exciting one. He will be one of the dogs helping keep the crowd safe at the 2023 Super Bowl in Arizona on Feb. 12.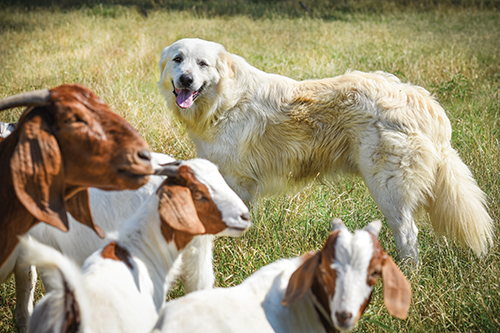 LIVESTOCK GUARD DOG, Buddy
Fayette County
Coyotes, be forewarned: Don't mess with Buddy's goats. The 4-year-old Great Pyrenees — seen here at his goat-pen home not far from the main square in Round Top — comes from a long line of legendary flock protectors. Great Pyrenees take their name from their ancestral homeland in the rugged Pyrenees Mountains, which form a natural boundary between Spain and France.
There, the breed has long been known for working with shepherds to safeguard herds from predators, even at night. Buddy belongs to Michael and Jackie Sacks, who until recently owned Round Top Mercantile. Buddy guards the family's eight Spanish Boer goats. He keeps unwelcome visitors at bay and will even take off after turkey vultures if they soar too closely overhead.
"He just kind of goes where the goats go," says Jackie Sacks. "When they go lay under the trees, he does, too. He probably thinks he's a goat."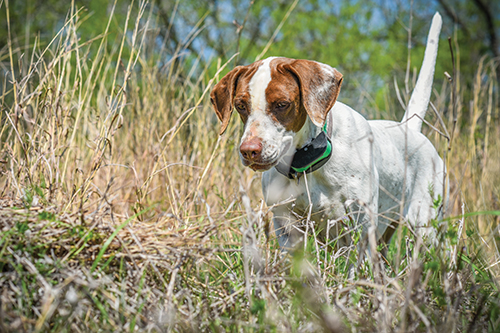 GAME BIRD POINTER, Sugar
Caldwell County
"The Cadillac of bird dogs" is what a recent American Kennel Club article dubbed the English pointer, lauded for its athleticism and elegant pointing pose. Legend has it this breed originated in 1713, when English soldiers came home from a war in Spain accompanied by Spanish pointers. When a hunting pointer — such as Sugar, at right, in action at Tenney Creek Outfitters in southeast Caldwell County — catches a whiff of a bird's scent, it freezes with its nose out, one front leg cocked up and its tail in the air. The statue-like stance is an instinctive response refined through breeding and developed with training. Sugar's job is to help the clients of Tenney Creek owner Jack Chamberlain find quail or pheasant in the underbrush on the company's property, a private bird hunting area. "Sugar is by far my top dog here," Chamberlain says. "She can go in and find birds when other dogs can't."
Doggone inspired to get a pet? Start with these resources
No matter where you live in the Bluebonnet Electric Cooperative service area, there is a rescue dog waiting for you at a nearby animal shelter. Get more details on these and many other animal shelters in Bluebonnet's region here.